Fourth of July is just around the corner, so here are some ways to make your party one that nobody will forget in a hurry:
Send out invites
Card invites serve two purposes: They're a helpful reminder that you can stick on the fridge, and they're thoughtful. Sending out official invitations like these are a considerate thing to do for guests. Plus, giving your party an official start and end time can be a big help – good-weather parties tend to run long, and with an official invite, you can nudge people towards the door when it gets too late.
Load up on food
When it comes to a party on a gorgeous summer day, the odds are fair that your guests will eat more than expected. Plus, with dietary restrictions on the rise, there is always a chance your oldest friend gave up meat last weekend without telling you and will be passing over the hot dogs in favor of a pile of carrots. Get more food than you think you will need and keep it simple; it's easy to polish off leftover cut veggies and potato chips. Also, don't be afraid to ask guests to bring food with them; you can always trust them to bring food that they will actually enjoy eating.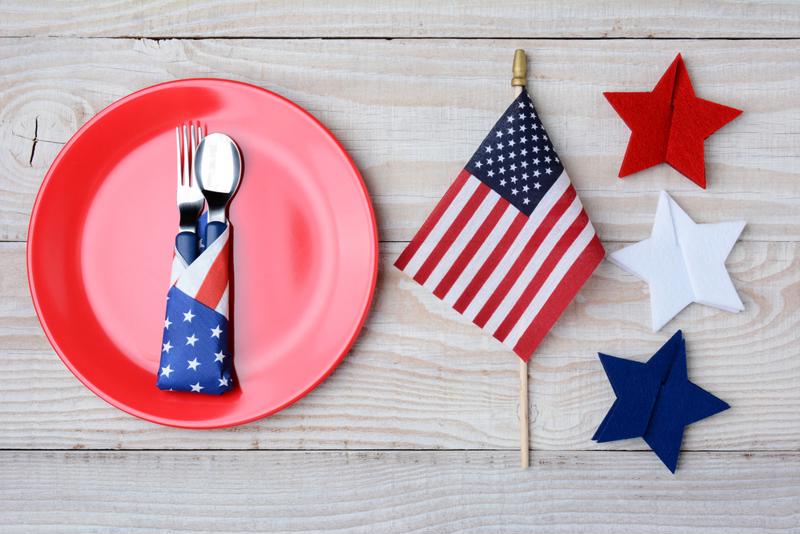 Go overboard with red, white and blue
Decorating for Independence Day is fairly simple: flags, flags and more flags. If you're looking for interesting things to do with your space, you can recruit your kids – or those who are still kids at heart – to do the decorating, giving you one less thing to worry about. With fun do-it-yourself patterns on the internet, such as streamers or cut-out paper stars, your children are bound to have great ideas. You also shouldn't be afraid to deck yourself out in red, white and blue so everybody knows you are part of the party.
Jazz it up with games
Sitting around on the porch is fun, but if you want friends and family to really let loose, provide them with something to do other than drink and talk. If your party includes kids, set up a craft station where they can decorate popsicle-stick frames or make hats out of newspaper. Another fun option is setting up a beanbag toss. This classic summer game is something children of all ages can enjoy, and the competition gets fierce quickly. You could get a tournament going at 4 p.m., and before you know it, the fireworks display has begun.
Be safe
According to the National Safety Council, Independence Day has the highest rate of accidents of any holiday in the U.S., and much of the risk is incurred due to the prevalence of fireworks. The best way to prevent accidents is to stay away from firecrackers for home use, keep pets indoors and away from strange foods, and minimize drinking by providing limited alcohol and lots of non-alcoholic beverages. If you are concerned about any of your guests, don't be afraid of taking their keys or sending them home in a cab. Your guests will leave with fond memories of a safe and happy event.
Have a happy and safe Independence Day, complete with piles of hamburgers, hot dogs, and red, white and blue apparel.