Holiday fever is in full-swing – with much of the season ingrained in traditions that are passed on and sometimes refined to make room for the latest generation's festive take. Some things that will always remain the same are the importance placed on family and friends, and enjoyable things like gift-giving, card-sending, cookie-baking, Christmas music, and classic holiday movies.
With the lights hung, the nativity sets pristine, and the weather crisp, we all can't help but get in the spirit a little bit. The internet is undoubtedly flooded with holiday-related searches and social media shares, from recipe posts to shopping ideas, heartwarming articles, Gifs, YouTube videos, and irresistibly cute holiday commercials. When the holidays get to be too much, the relatives are driving you nuts, and the credit card bills start rising, we have the internet to remind us that it's all just part of the season – the crazy holiday season. We've compiled a list of the most popular content on the internet from 2016 to get you geared up for this year. Some of which has been shared over a million times on Facebook! Be sure and thank us later.
Carpool Karaoke
Yep, it's way, way up at the top, because everyone loves Carpool Karaoke with James Corden and a batch of A-list singers. There are over a million Facebook shares, just last year, to prove it! Even if you say you don't, you still secretly do, and can't help but crack a smile at this video. The Queen of Christmas, Mariah Carey, is leading the pack with "All I Want for Christmas is You" with guest appearances from Adele, Elton John, Demi Lovato, Nick Jonas, Selena Gomez, Lady Gaga, Chris Martin, Red Hot Chili Peppers, and Gwen Stefani. Take a look.
Easy No-Bake Chocolate Oat Bars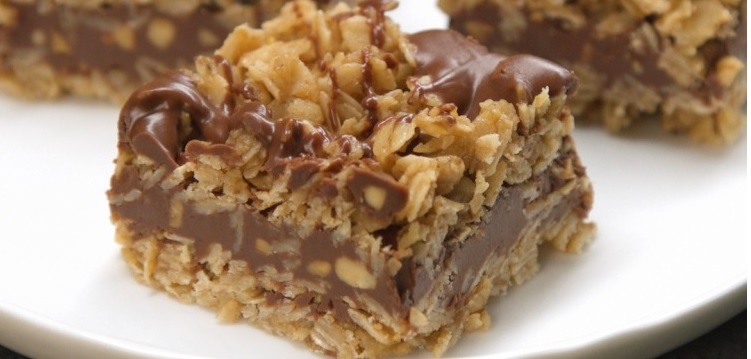 With Christmas cookies on the brain, but little time to make them, what's the solution? Apparently, it's no-bake chocolate oat bars. It's a relatively guilt-free snack with a sinfully-sweet chocolate drizzle. And for those of us who are balancing a dozen other things this season, they are quick to make but impressive to eat. Check out a recipe that was shared over 200,000 times on Facebook last year and pinned more than 700,000 times on Pinterest. Click here.
Silent Night by Chewbacca
Okay, so it's pure nonsense, but there is something rather endearing about Chewbacca singing Christmas carols. Over 750,000 Facebook users in 2016 agree! In fact, Star Wars has been capitalizing on the Christmas season for some time now, dating back to the days when records were still spinning in homes across America. But Chewy has moved on to bigger and better things. You be the judge on whether video killed this radio-star with this YouTube clip.
Polish Christmas Commercial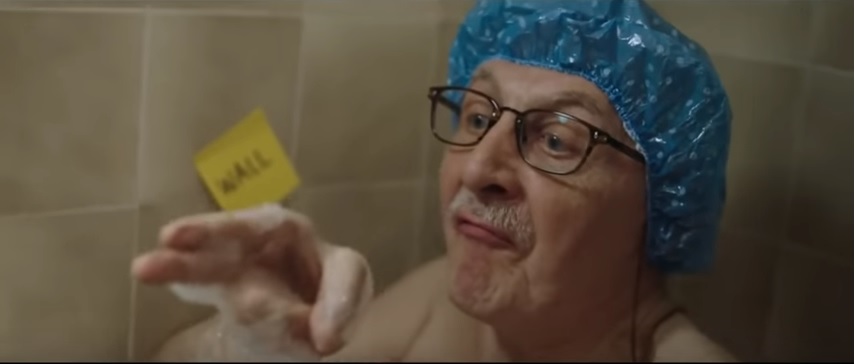 Allegro is a hugely popular e-commerce marketplace in Poland, used more than both Amazon and eBay. They also produced this really impressive holiday commercial, shared over 630,000 times on Facebook last year. It details a Polish man learning English for a trip to meet his American-born granddaughter for the first time. It taps into a real part of all of us and the things we do to form more meaningful relationships with our loved ones. It's cute, humorous, and even a little inappropriate. It's tender and authentic. This sweet old man with his adorable doggy sidekick stole our hearts last year. And the moment when he finally meets his granddaughter…just precious. Click here or the image above to watch.
Forest Hill Ad
Forest Hill, a non-denominational North Carolina church with several different locations throughout the area, released a truly great video that was shared approximately 630,000 times on Facebook in 2016. The video tackles the issue of rampant consumerism around the holidays with skillfully precise humor. There is endless monetary pressure around the holidays, but take a look at what you already have this season, and be excited! Check out this ad; you'll see what I'm talking about.
Chicago Hospital has Amazing Story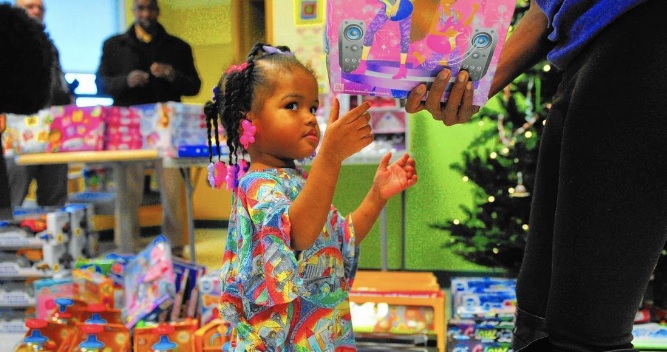 One woman, a food service aide for a Chicago-area hospital, goes above and beyond for the young patients by purchasing nearly 1,300 hundred toys at the cost of almost $5,000. Jessie Tendayi saves up all year to give the children a wonderful holiday. Click here to check out this article that was shared over 540,000 times on Facebook last year, and learn more about her amazing act of kindness.
Kindness Advent Calendar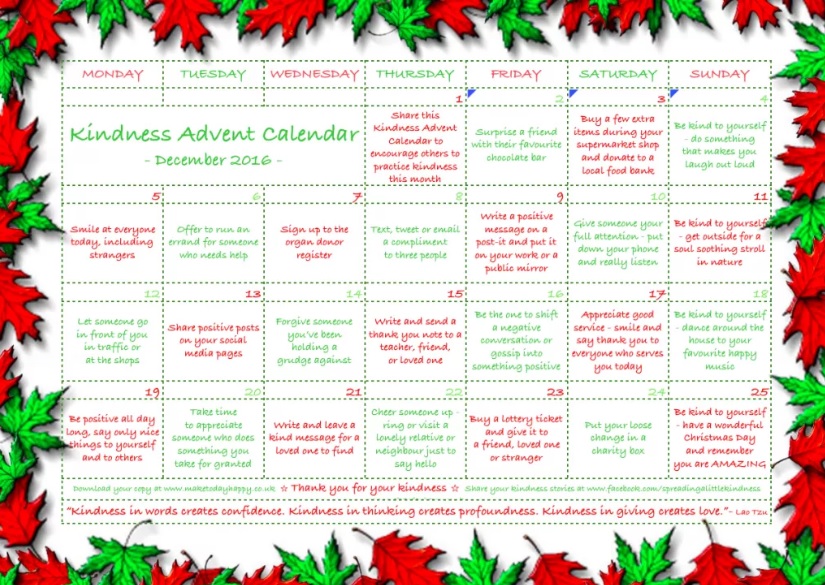 To ensure your own acts of kindness, take a look at this unique advent calendar from this UK-based website. Each day it makes an achievable suggestion on how to brighten up someone's day as well as your own. It's a great reminder of how to make the world a bit better one day at a time. Last year it was shared over 530,000 times on Facebook!
Christmas GIF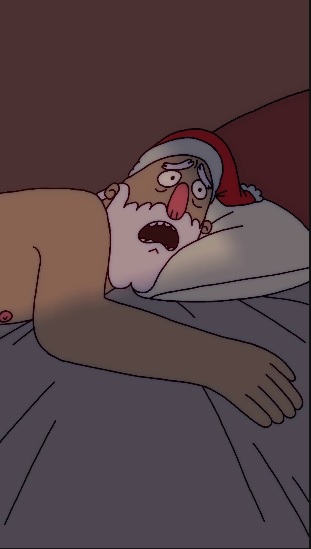 This humorous Christmas GIF was shared over 470,000 times on Facebook last year and features a relatable Santa who's running late for work. Who will you send it to?
John Lewis Christmas Commercial
https://www.youtube.com/watch?v=sr6lr_VRsEo
Pure perfection from John Lewis and we shouldn't expect anything less. John Lewis is a department-store chain based in the United Kingdom; they also produced one of the cutest holiday commercials I have ever seen (shared over 450,000 times on Facebook last year), along with several others that are equally as good. What's better than animals getting together to celebrate Christmas? Them doing it on a trampoline.
M&M's Christmas Cookie Bars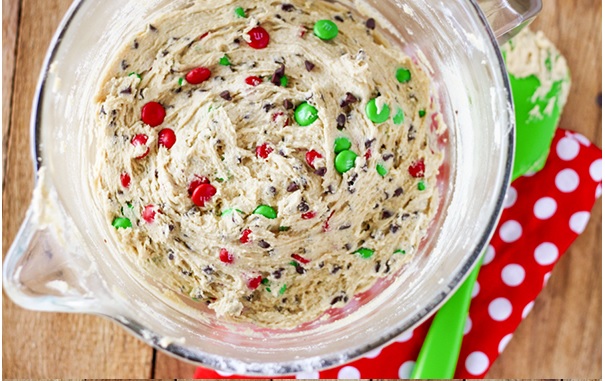 Another sweet treat to end the list. This recipe wasn't a huge hit on Facebook, but it was pinned over 500,000 times on Pinterest in 2016. In about 15 minutes you can guarantee dozens of likes at your next Christmas party by clicking here.