When is the holiday season? We are officially in holiday season 2020! So what are the holiday 2020 trends? This year it's different, but the holidays will forever be a cherished time, even if we have to adjust our way of doing things for the upcoming holidays in 2020. That's where our holiday guide comes in! In fact, celebrations like Thanksgiving, Hanukkah, Kwanzaa, Christmas, New Year's – and, yes, even Halloween, may be even more necessary during trying times. 2020 has been a crazy year, to say the least; civil unrest, an intense presidential election coming up, several natural disasters, and, of course, COVID-19 aka the novel coronavirus. But, let's divert our course of thinking here, let's all agree that there are at least one of these holidays that we are looking forward to, and while we may have to adapt to a different way of holidaying during a global pandemic, it's still possible, and needed. This comprehensive holiday planning guide will give you concise tips and tricks with an easy-to-follow strategy for getting the most out of the holiday season in 2020.
Halloween 2020 Ideas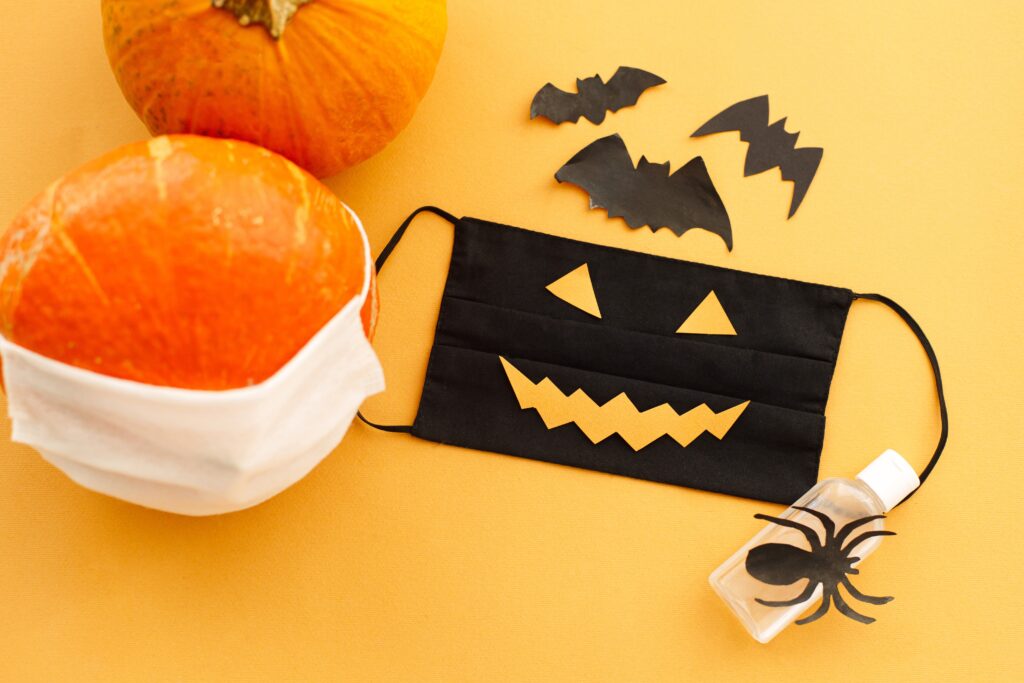 Who's ready to put on their masks? October 31st marks Halloween, a day celebrated by children and adults alike, but how is Halloween different this year? Halloween 2020 brings with it a global pandemic, a full moon, a blue moon, daylight savings time, and a Saturday celebration. But is Halloween cancelled this year? Not quite.
Some areas, like Los Angeles, have been extra cautious for Halloween this year and initially banned trick-or-treating, before changing it to a strong advisement against the Halloween tradition. If you do plan to trick or treat this year, be mindful, be respectful, and check your local CDC guidelines for Halloween rules in your area.
Increased safety precautions in residential areas suggest small bags filled with a few individually-wrapped pieces of candy that children can take one-by-one from doorsteps or locate during a scavenger hunt. For more Halloween 2020 tips see below.
Halloween 2020 Tips
Create candy bags and leave them on your front porch for trick-or-treaters.
Do reverse trick-or-treating by leaving treats for your neighbors on their doorsteps
Do a trunk-or-treat with your closest friends. Load your vehicle's trunk up with candy, park your cars in a parking lot, and let the kids dig in!
Create a dazzling Halloween display at your home (our neighborhood is hosting a contest with prizes to the winner for the best Halloween decorations).
Grab your DIY pumpkin decorations and have a pumpkin decorating contest. Decorating pumpkins is a great activity for the whole family and your neighborhood. See what kind of decorative pumpkins you will make this year from fall painted pumpkins, fall scenes with pumpkins, jack-o'-lanterns, vampire pumpkins, and more! Check out Pinterest pumpkin decorating pictures for some nice ideas
Don't feel safe going out this year? Hide candy around your house and even in your backyard for your kids to find or create trick-or-treat rooms (each with its own theme and candy offerings).
Create haunted rooms inside your house for your family to explore.
Tell ghost stories by your fire pit (remember the S'mores) or watch a scary movie (don't forget the chocolate popcorn).
Host a Zoom Halloween party.
Bake some Halloween treats.
Host a drive-by Halloween parade.
Send Halloween cards and Halloween-related gifts to family and friends.
Create Halloween chalk art on your driveway.
Dress up. That includes children, adults, and pets.
Participate in some festive face painting.
Take turns at a Halloween-themed piñata.
Decorate your COVID-19 medical face masks with paint, glitter, sequins, and clever drawings like vampire teeth, ghoulish features, or a princess's smile.
People have come up with some great face mask designs that include large cartoon mouths, alien snouts, bridal-themed wedding masks, masks with a closable straw hole for drinking, jeweled masks, superheroes, villains, and more.
While Halloween consumer spending is expected to fall 8% by the National Retail Federation, retail shopping trends show that seasonal candy sales have actually increased by at least 13% when compared to last year, according to market research firm IR. According to CNBC, several candy makers including Hershey's, Ferrero, and more, have seen an increase in sales for things like Hershey's S'mores kits and Nutella, attributing these consumer trends to people spending more time at home.
The National Confectioners Association created a website dedicated to safe Halloween tips for 2020 during the COVID-19 pandemic called Halloween Central and even opted for a paid post with the New York Times. Hershey's partnered with the Halloween Costume Association and Harvard Global Health Institute and created a Halloween 2020 website that offers similar tips and allows you to check the spread of COVID-19 in your area.
Also jumping in on the Halloween bandwagon while supporting social distancing is Amazon. Starting on October 9th and continuing to Halloween, all Amazon boxes come with a white and black pumpkin graphic that you can decorate. Drawn your own face on the pumpkins icons, scan the QR code found on the box, and watch your pumpkin come to life in Augmented reality (AR). This, Amazon says, is a fun thing to do with your boxes before you recycle them, as they continue to strive for cutting down on their packaging waste.
Halloween Sayings & Greeting Card Messages
Wondering what to write in a Halloween card for 2020? Sending Halloween gifts and Halloween cards by mail is a nice way to social distance while still celebrating Halloween. For 2020 Halloween card messages and Halloween sayings you may want to try something like:
2020 has been pretty scary, but someone as sweet as you knows that the trick to a great Halloween is how we treat each other. Stay safe, stay strong, and stay connected!
Goblins, ghouls, and monsters of every sort couldn't be scarier than a 2020 news report. Have a safe and happy Halloween.
Have a safe, healthy, and happy Halloween.
Have a scary-good Halloween!
To the most boo-ti-ful person I know – treat yourself and have a fang-tastic Halloween!
Feel free to lighten the mood with happy Halloween funny sayings or send jovial Halloween greetings with cute Halloween quotes inside. Be creative and don't be frightened to use puns with your Halloween phrases or Halloween wishes. You can even send scary Halloween quotes or a heartfelt Halloween saying – it's all up to you!
Thanksgiving 2020 Ideas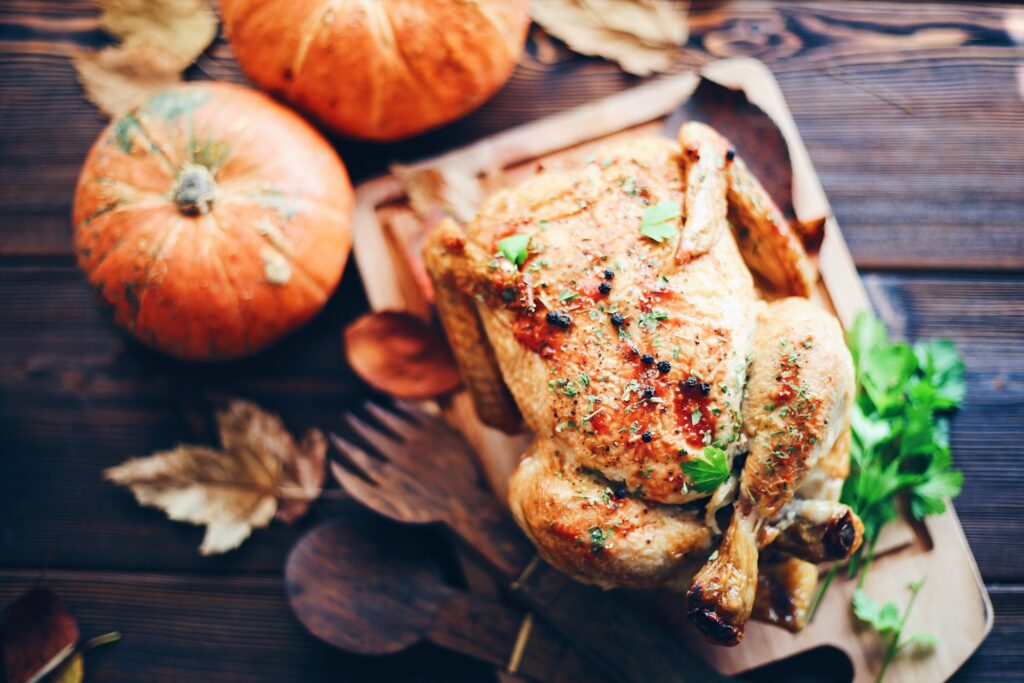 Our next upcoming holiday is Thanksgiving. To Thanksgiving or not to Thanksgiving during COVID-19? Thanksgiving is a holiday celebrated on the fourth Thursday of November in the US each year. Other countries have different dates for thanksgiving holidays and this harvest festival celebration, like Canada, who celebrates Thanksgiving on the second Monday in October. 2020 is giving us some roadblocks to celebrating with many of the Thanksgiving traditions we hold dear.
Thanksgiving 2020 Tips
Here are some holiday insights and thanksgiving things to do to ensure a safe, happy, and healthy holiday despite COVID-19.
Keep it small – the closest of family and friends – the CDC agrees. Vulnerable family members with high-risk health complications must stay home. Cue everyone else in to raise a toast via your favorite video chat option – you can even do it on your big-screen TV.
If your environment allows, host an outdoor Thanksgiving. Set up a table, and congregate around a backyard fire pit; there are many affordable options.
Maximize distance between your Thanksgiving guests indoors.
Go for a Thanksgiving foot bump instead of a handshake or hug this year.
Try to avoid guests staying for long periods of time if you can.
Focus on your Thanksgiving centerpiece this year (make your own).
Make adorable place settings with Thanksgiving-themed glasses, cutlery, and plates. Order personalized coasters, napkins, invitations, Thanksgiving cards, and more.
Create Thanksgiving chalk art in your driveway.
Space out seating and stagger eating times if needed; wear a mask whenever possible and decorate it with Thanksgiving graphics. You can also order personalized masks for your guests.
Get down to your most basic self with some pumpkin spiced hand sanitizer, soap, candles, and coffee flavoring.
Get creative in the kitchen – make a brand-new Thanksgiving dish or Thanksgiving cocktail.
Have everyone take their temperature, monitor symptoms, or take a COVID test before they come over.
Open windows or use an air purifier to improve indoor air quality. There are also many species of plants that improve indoor air quality.
Take turns saying what you are most thankful for.
If you are doing some holiday shopping on Black Friday looking for the best holiday sales, do as much as you can online, visit stores at non-busy times, wear a mask, and please use your best judgment.
Avoiding family gatherings can be tough. Surveys show that people are split pretty evenly when it comes to upcoming holiday get-togethers, with a slightly greater percentage saying they are still going to continue with their party plans at this time. Though, most say they will be having a smaller number of people this year and traveling less or not at all. Here are the stats from a Morning Consult Survey of 2,212 US adults in early September:
53% will continue with their holiday plans
47% will cancel their holiday parties.
74% say they will host fewer people.
68% say they will travel less.
72% say they won't travel at all.
Some states also require virus testing or 14-day quarantines for out-of-state visitors, so check your area's COVID-19 requirements.
Thanksgiving Sayings & Thanksgiving Card Messages
Looking for what to write in a Thanksgiving card in 2020? Thanksgiving cards are a genuine way to send your Thanksgiving wishes to everyone you know, including family, friends, customers, and colleagues. While COVID-9 has put a halt on some holiday activities including seeing family at thanksgiving, Thanksgiving greetings are a great way to stay connected. You can choose a pre-crafted happy Thanksgiving message or create your own unique Thanksgiving words and Thanksgiving messages. Use nice happy Thanksgiving quotes or lighten the mood with happy thanksgiving funny quotes and holiday greeting messages.
This year we should be extra Thankful for all the wonderful people that make our lives meaningful. I am Thankful for you. Happy Thanksgiving.
While we can't be together this Thanksgiving, you are always in our hearts.
Sending the biggest Thanksgiving hug your way!
You are the person I am most grateful for this Thanksgiving.
On Thanksgiving, we pause to show our appreciation for all life's wonderful blessings.
Life changes in the most unexpected ways – hold tightly to the things that never do. Happy Thanksgiving.
For all that we've lost and everything we've gained, Thanksgiving is a great reminder to appreciate each day.
With Thanksgiving in our hearts, we will always be strong.
We're together, even where we're apart. We're connected, even when we're far away. Happy Thanksgiving.
Together we remain connected, this Thanksgiving and always.
Thanksgiving blessings for you and your loved ones this year and always.
Let us thank God for this Happy Thanksgiving Day he has so generously bestowed upon us. Many Thanksgiving blessings. Be well.
Have a Happy Thanksgiving Day!
Hanukkah 2020 Ideas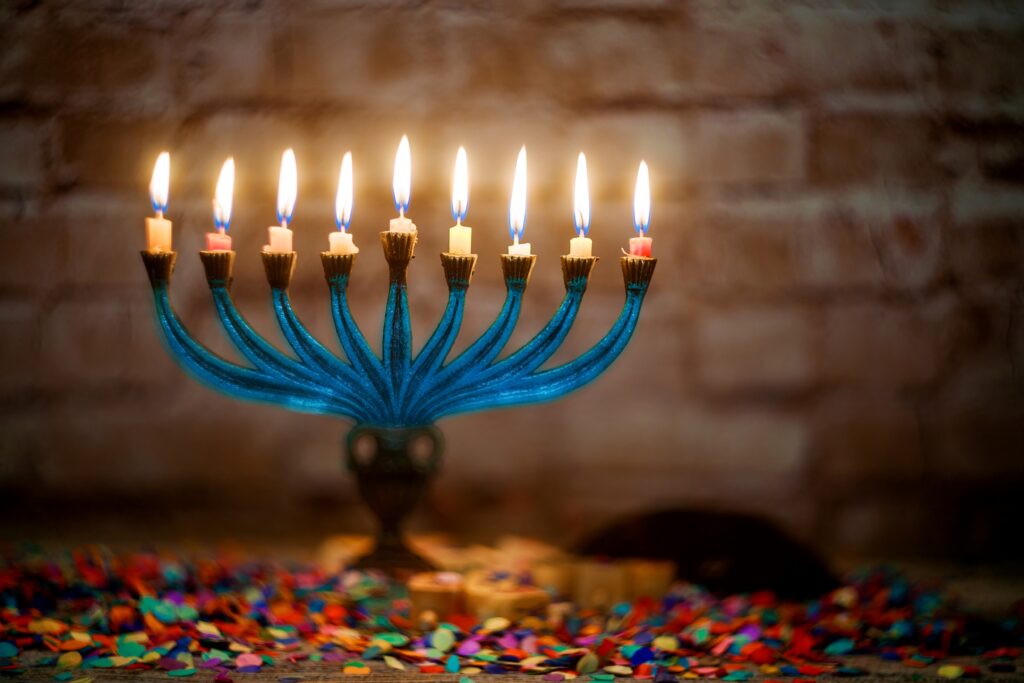 Starting on December 10th and concluding on December 18th, Hanukkah is a wintertime festival of lights and celebration of Jewish heritage. You will see a menorah lighting, money or gift-giving, prayers, Jewish foods, and get-togethers. This year, remember these 11 important tips.
Hanukkah 2020 Tips
Keep travel to a minimum.
Shop online or know what you are getting when going to the store to keep brick-and-mortar visits short.
Celebrate in smaller groups (immediate family is best). Take precautions; wear masks, make sure guests are spaced out, wash your hands, sit outside if you can, and keep gatherings short.
Plan Hanukkah crafts with your children. Everyone is spending more time at home, activities like making dreidels and other decorations can be fun.
Play games.
Take a walk with your family outdoors right before nightfall and light the menorah when you arrive home. Place additional importance on the beauty of your Hanukkah traditions this year and try to make them as joyous as possible. The walk before your lighting ceremony will boost your mood and energy and it is a nice way to spend time with family without distraction – just remember to social distance! After you light your menorah and say a blessing, sit around the candles with your family, and tell stories.
Give back to others and increase the scale in which you do so for Hanukkah 2020. If you cannot afford to donate money to charities, acts of kindness are just as good; combine the two!
Make an event out of cooking delicious Hanukkah foods together.
Personalize your Hanukkah cards with the whole family.
Host a Zoom Hanukkah party
Attend virtual temple.
Hanukkah Card Messages & Chanukah Greetings
Searching for what to write in a Hanukkah card in 2020? Each Hanukah greeting message below can be used as-is or to jumpstart your own creativity! Hanukkah cards with heartfelt Hanukkah greetings are a great way to reach out to friends, family, and your professional relationships from a safe distance this year to send them Happy Hanukkah wishes. Looking for how to say Happy Hanukkah in the best way possible for 2020? See below. Choose a pre-crafted happy Hanukah greeting or Hanukkah quotes. You can also write your own Hanukkah sayings to use in your Hanukkah cards.
Find beauty in change and peace in tradition. Happy Hanukkah!
Hanukkah is a reminder of everything we hold dear, and all the joy life still brings.
Send joy whenever you can; receive joy whenever it's offered. Happy Hanukkah.
Miles apart or right next door, we're always connected. Happy Hanukkah!
Our home is our workspace, our safe space, and a space where connections are made. Both right next door and from afar, we'll celebrate Hanukkah together.
Sending hope, happiness, and love from our home to yours. Happy Hanukkah.
The joy of the Hanukkah comes from the home, knowing that wherever it may be, it's the connections we make that give it meaning.
There's nothing more special than being home for Hanukkah.
Never forget the joy Hanukkah brings.
Bringing hope, happiness, and love to you this Hanukkah.
Chanukah blessings to you and yours!
In this festival of lights, we thank God for a Happy Hanukkah!
Christmas 2020 Ideas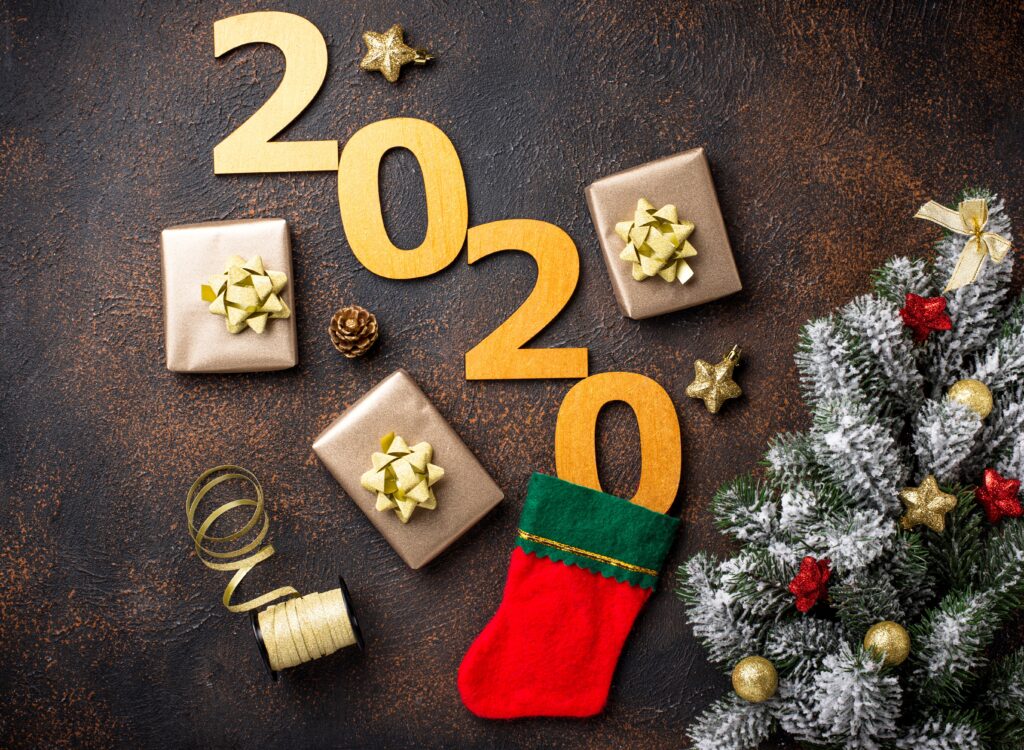 What types of Christmas trends are we seeing this year for 2020? Christmas commercials will change and holiday marketing has changed already; whether it's 2020 humor, over-sentimentality, or the right amount of heart for your Christmas and holiday season ads. Whether it's subtle or obvious, businesses and holiday advertisers have adapted their brand message for one of the largest marketing holidays of the year. The Christmas gifts you buy from holiday stores and the holiday cards you send could also change. Even your holiday photos or holiday photo cards may have the addition of face masks this year. If you usually travel for Christmas, especially by plane or another mode of public transportation, you could decide to stay home this year. Here are some helpful tips to add to your Christmas bullet journal for making the most of Christmas 2020 during COVID-19.
Christmas 2020 Tips
Shop early and online.
Create personalized Christmas gift baskets with the recipients' favorite things.
Travel by car or not at all.
Keep gatherings small.
Set up Christmas stations at your house where people can enjoy a decoration theme and have conversations from a safe distance apart (social distance).
Wear masks when possible and ensure all your family members are healthy.
Take advantage of outdoor Christmas events, like walking through a snowy park with Christmas decorations, ice skating, sledding, or driving through neighborhoods to look at the Christmas lights.
Host a Christmas themed parade in your neighborhood and decorate your vehicle like a Christmas float.
Create Christmas chalk art on your driveway.
People are putting forth extra effort into Christmas decorations for the interior and exterior of their homes – do the same – dazzle the neighborhood – and even host a contest.
Dress up and carol from the streets.
Write letters to Santa.
Drop Christmas gifts off on peoples' porches.
Celebrate via FaceTime.
Create a new Christmas recipe or holiday drink.
Send a funny Christmas card or custom holiday card with your own heartfelt message.
Place photos of all your family members on your Christmas tree. Family photos, especially of family members you won't see this year, will look great on display and remind you that even though you put safety first, you are still connected.
Get cozy on the couch, light a fire, watch Christmas movies, and listen to Christmas songs with your immediate family; a small Christmas can be quite nice!
Attend a virtual sermon or virtual Christmas mass.
If this could be your last year with an elderly family member, think about the risks, if you still decide to invite them to Christmas dinner, take as many precautions as you can – holiday hand towels may be cute but you should also offer throw-away hand wipes and hand sanitizer. Remember to wash hands often (at least 20 seconds), wear masks whenever you can, socially distance, and for warmer climates, host Christmas outside – for colder climates, think about investing in heat lamps.
Christmas Card Messages & Holiday Wishes
Considering what to write in a Christmas card in 2020? Below are some delightful Christmas messages and holiday card messages for you to choose from. Pick expertly crafted holiday greeting messages or personalized happy holiday wishes for your professional relationships. There are plenty of Christmas card messages for family and friends too. Our holiday messages will get you started, offering holiday messages specific to 2020, genuine Christmas messages, religious Christmas card sayings, holiday card sayings, business holiday card messages, holiday messages to clients, and more!
Send joy whenever you can; receive joy whenever it's offered. Merry Christmas.
Holidays are a reminder of the beautiful traditions we value each year.
Miles apart or right next door, we're always connected. Happy holidays.
Our home is our workspace, our safe space, and a space where connections are made. Both right next door and from afar, we'll celebrate Christmas together.
Centered at home. Connected from afar. Universally ready to celebrate the holidays!
The joy of Christmas comes from the connections we make throughout the year.
Sending hope, happiness, and love from our home to yours. Merry Christmas.
Together we remain connected, this Christmas and always.
We're together, even where we're apart. We're connected, even when we're far away. Christmas and throughout the New Year, we will always be with you.
The joy of the holidays comes from the home, knowing that wherever it may be, it's the connections we make that give it meaning.
Work from home. Smile from home. Connect from home. Celebrate being home for the holidays!
There's nothing more special than being home for the holidays.
Never forget the joy Christmas brings.
Bringing hope, happiness, and love to you this Christmas and throughout the New Year.
At Christmas, we celebrate the birth of a king and all he has done to give us life.
God's greatness shines on you at Christmastime and all throughout the year.
Kwanza 2020 Ideas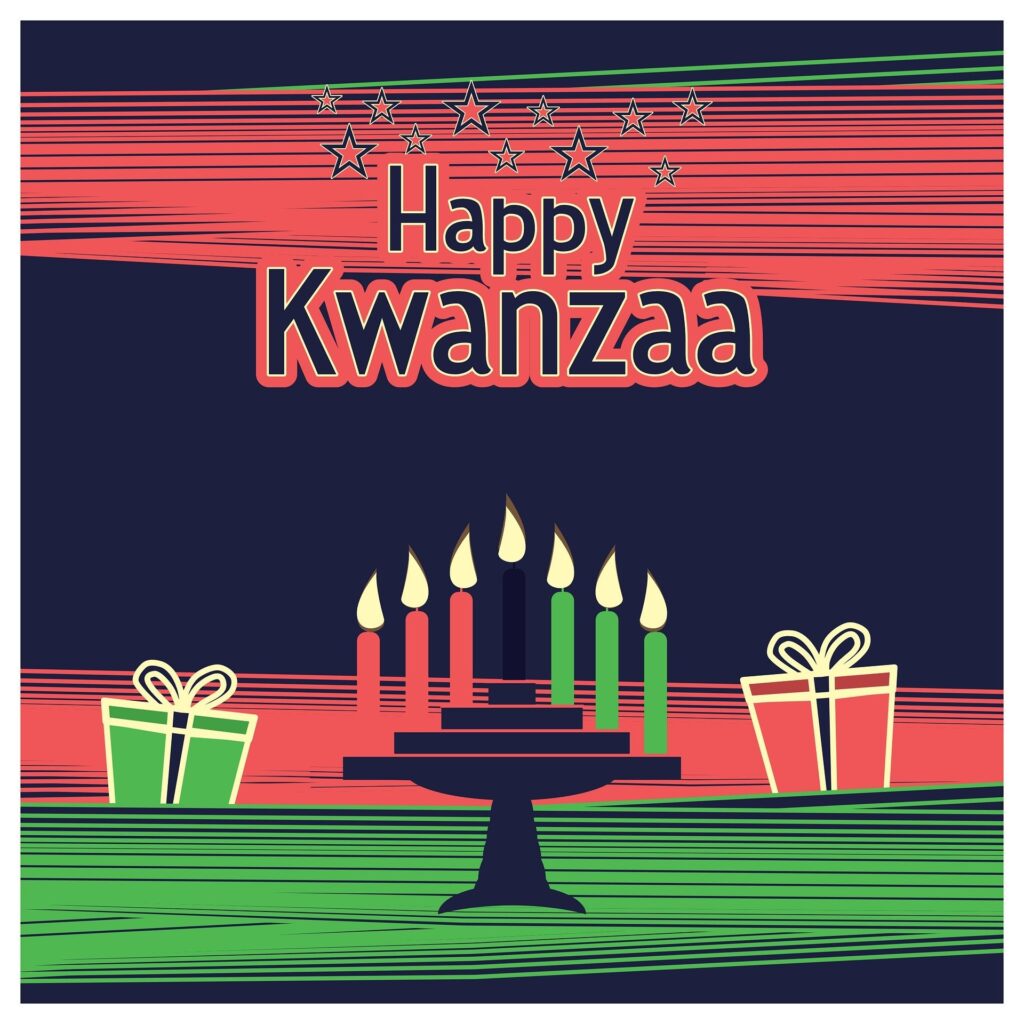 Kwanza or Kwanzaa is a celebration that starts on December 26th and continues to January 1st. Kwanza is a celebration of African American culture. During Kwanza, you may see colorful decorations and clothing, a candle-lighting ceremony, musical tributes, readings, and more. The holiday concludes with Kwanza gifts and a feast of faith known as Karamu Ya Imani.
This year, the need to celebrate Kwanza may be even more important than the last, but some extra prep, precautions, and creativity is in order. Talk to your family and friends, ask what they are most comfortable with and tell them where you stand. Remember these top 10 important tips for planning a safe, healthy, and happy Kwanza.
Kwanza 2020 Tips
Whether you decided to host indoors or outdoors, make things like hand sanitizer, hand soap, face masks, disposable hand wipes, paper towels, touchless trash cans, and Lysol wipes readily available – disinfect everything!
Decorate your house with colorful Kwanzaa decorations!
Create Kwanzaa chalk art on your driveway.
Learn to cook new Kwanza recipes for dinner or cocktails.
Drop Kwanzaa gifts off on peoples' porches.
Celebrate virtually.
Send a funny Kwanza card or custom holiday card with your own heartfelt message.
Have small gatherings with immediate family; play games, sing songs, and enjoy your Kwanzaa celebration!
Host a socially distanced Kwanzaa event in your neighborhood.
Make unique Kwanzaa gifts or shop online.
Place additional importance on the beauty of your Kwanza traditions this year and try to make them as joyous as possible.
Kwanza Greetings and Kwanza Card Messages
Interested in what to write in a Kwanza card in 2020? This year, sending genuine Kwanza cards is a safe way to remain connected throughout the holiday with your professional and personal relationships. Times may be tough, but we must celebrate our life, our connections, our heritage, and all the joy that still exists in this world. Send a Happy Kwanza card with your own personalized Kwanzaa message or choose from a suggested Kwanzaa greeting below.
Kwanzaa is a time where we cherish the friends we have made throughout the year.
Have a joyous Kwanzaa and a Happy New Year!
Have a Merry Kwanza filled with peace, love, and unity.
Happy Kwanza 2020 – we will persevere!
May your family be blessed with all the joys of Kwanza!
We remain connected this Kwanzaa and always.
Celebrate Kwanza and the glory it bestows!
Kwanza blessings to you and your family.
While we may be apart this Kwanzaa, our love has no boundaries.
The gift of Kwanza comes once a year, but our love is celebrated each day.
New Year's 2020 Ideas for a Happy 2021!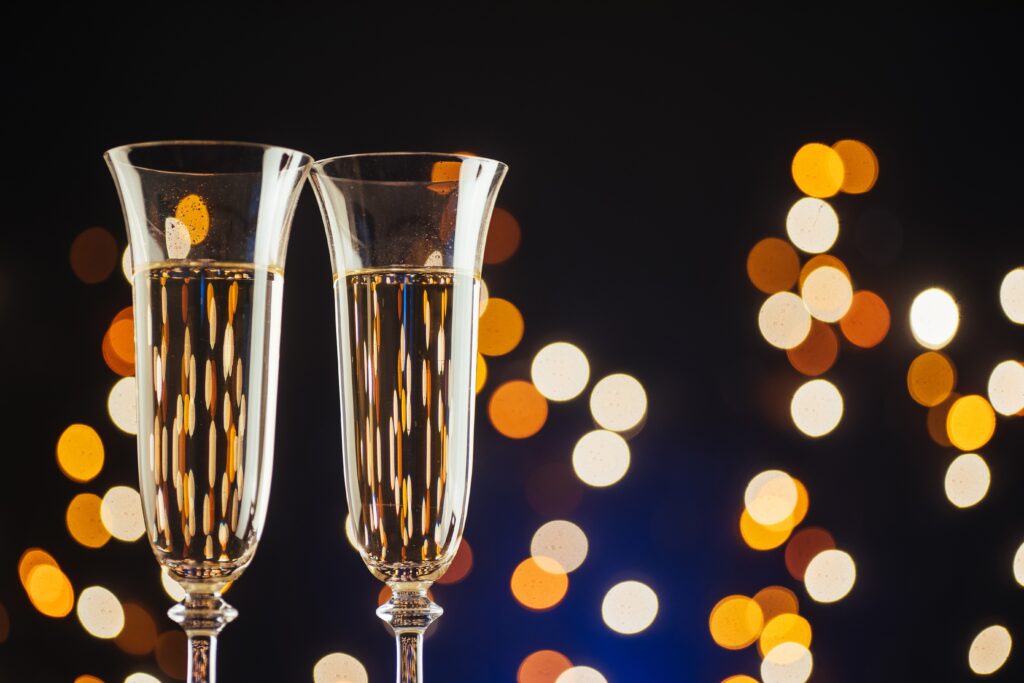 We may have to wait a couple years on the perfect conditions for a Times Square ball drop or to host an epic New Year's Eve bash, but there are still things we can do to ensure our 2020 New Year more than adequately rings in 2021.
New Year 2020 to 2021 Tips
Virtual parties are a must for New Year's Eve – get on Zoom, Teams, FaceTime, or Alexa, and watch the ball drop with all your friends and family. Get out your party hats, noisemakers, and decorations!
In some states, there are safe areas to light off fireworks. For small children, sparklers are best. An outdoor display may be just what the doctor ordered for New Year's Eve 2020 to 2021.
My grandmother loved champagne cocktails, but even in my 30s, I'm not quite sure how to make them. They are fun, sweet, and delicious – check out these champagne cocktail recipes!
Write out a New Year's toast and read it to your family.
Review your 2020 New Year's resolutions, did you accomplish them? How can this year be different? Draft out manageable New Year's resolutions for 2021 with your family, and share them.
Host a virtual game night. Choose an adult party game like Cards Against Humanity online. Another great option is Jackbox TV – some of their games are appropriate for children while others are more geared to adults; there is also a setting you can select to ensure each game is family-friendly.
Clean your house before your New Year's Eve Party – it is good to bring in the New Year with everything looking fresh.
If money allows, purchase a brand-new outfit and get dressed up, even if it's just you and your family. My fiancé says you should always ring in the New Year with new clothes.
Cook a fancy meal and make the house inviting; light candles, bring out your best dishes and cutlery, start a fire, or project a digital fire or calm background on your television.
Happy New Year 2020 Messages & Sayings for Greeting Cards
Want to know what to write in a New Year's Card for 2020? 2020 is a great year to send Happy New Year's card, so here are some inspirational New Year quotes and Happy New Year blessings to get you started on your Happy New Year greetings! Create your own Happy New Year messages or use a suggested Happy New Year message or Happy New Year Quotes below for your Happy New Year cards. Send Happy New Year wishes for friends, family, coworkers, clients, and more!
New Year's Eve provides the hope of today becoming a better tomorrow.
Centered at home. Connected from afar. Universally ready to bring in the New Year!
This year, home for the holidays takes on new meaning, but, whether it's work or play, the connections we make with one another mean everything. Happy New Year's!
Happy New Year wishes to you and yours this season!
Warmest thoughts to you and your loved ones as this challenging year winds down.
Wishing you good health, happy holidays, and a prosperous New Year!
Holiday greetings and best wishes for a New Year of happiness in a world of peace.
Wishing you every happiness this holiday season and throughout the coming year.
To a better 2021! Happy New Year!!
Cheers to making it through 2020. Happy New Year!
Have a safe and happy holiday season – for all your greeting card needs, choose CardsDirect!