The days are long, and the weather is fair. Chances are high that you and everyone you know will be attending at least one wedding in the next few months. Here is a survival list of reminders and tips for being an impeccable wedding guest, no matter the circumstances:
RSVP promptly
Couples typically send save the dates six to eight months before the wedding and invitations six to eight weeks before. It may seem like an obvious task to many invited guests, but replying to say that you will or will not be attending a wedding is the most important first step. Most couples have a horror story about tracking down a last holdout who simply would not give them a yes or no answer. Most invitations include an addressed and stamped RSVP card, guests can simply enter their names and responses, or you can mail a card yourself on personalized stationary that you can customize here. RSVP as soon as you can; it takes two minutes, and it saves the bride and groom energy and time.
Figure out accommodations
If the wedding is out of town, plan your hotel reservations fast. Couples often get blocks of rooms for their wedding dates, and guests simply pay a negotiated rate. This is a courtesy and is not required for wedding guests. Just make sure you have found a place to stay that is out of the bride and groom's way; they have a lot to deal with in those last few days, and you will see them at the wedding either way.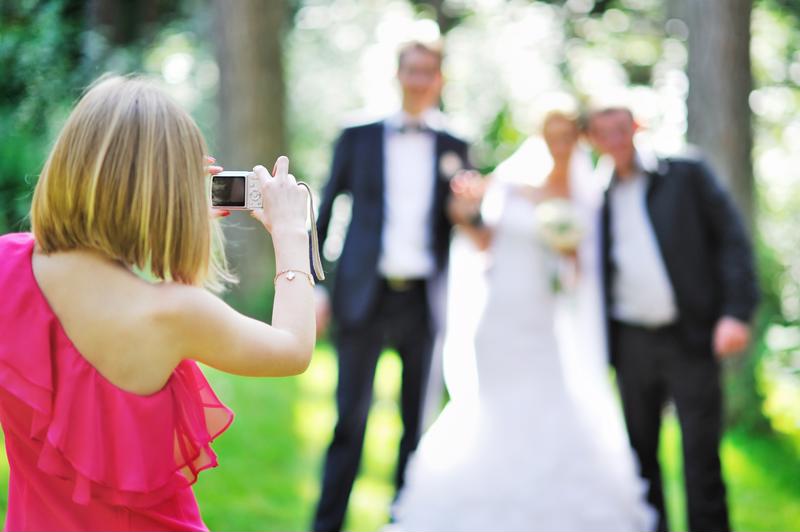 Do not bring extra guests
Unless the invitation says "plus one," the only people in attendance from your side should be the people listed on the invitation. It is considered a great faux pas to ask for any additional seats at a wedding, so keep it simple, and do not do it. This is the wedding of the bride and groom, and they have selected their guests for a reason, so do not impose on them.
Dress appropriately
If a wedding has a specific dress code, it will be noted on the invitation. If there is nothing specific mentioned, then assume that it is cocktail attire, meaning that men wear suits and ties and women wear knee-length dresses or an equivalent.
Arrive Early
Wedding invitations note the start time of a ceremony. Ideally, guests should arrive about half an hour early. That way, there is time to find a seat and get settled. Some weddings provide busses for guests to ensure they arrive promptly, but if you have to get there on your own steam, allow extra time to find a place to park and find your seat.
Be respectful
Weddings and receptions are fun, but they can also be high-stress events that open up old wounds and trigger bad behavior. Be mindful of other guests as well as the guests of honor, and keep yourself from becoming the wedding wildcard.
Send a gift
You can give gifts up to a year after the wedding date, but it is easier to send them earlier rather than later; registry items typically disappear quickly. Be sure to stick to the list because it ensures that duplicate items are not given by mistake. If you wait until after the date to send a gift, include a card offering congratulations, congratulations cards are available here.
These are the basics, but every wedding is different. Remember that being a wedding guest is a responsibility all its own; follow these suggestions to ensure that you are an impeccable guest and find suggestions and stationary for any occasion at cardsdirect.com.