People gear up early for the holiday season. Faster than you can say pumpkin spice latte, the jack-o-lanterns are replaced with Christmas lights, and every store-front from here to Timbuktu are featuring Santa Clauses, dreidels, and seasonal colors a-plenty. In my office, it's pretty much the holiday season year-round; I work at a greeting card store (one of the largest e-commerce greeting card stores in the country). Every year we sell millions of cards to personal customers, small businesses, and Fortune 500 companies; with the majority of our sales centered on holidays. Odds are, you have probably received one of our cards in the mail.
Now it's crunch time. While most of the world is still living out those last dog days of summer, we are hard at work prepping for the season ahead – and, believe it or not; the holiday orders are already coming in. Businesses are at the front of the line for custom holiday card orders in preparation to greet their customers with good tidings and cheer when the time comes; creating personalized cards to represent their brand and its corresponding market.
We thought we'd show you some of our top-selling holiday cards over our last ten years to give you some ideas. All cards are available for purchase; simply click on the holiday card images you like, and you'll be sent directly to their page!
2019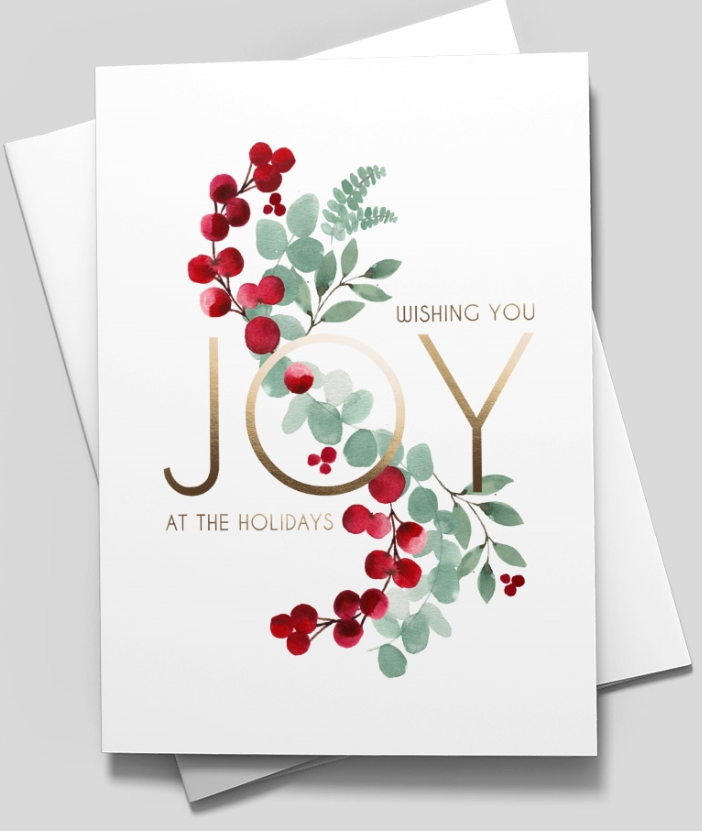 The front of this stunning holiday card includes beautiful pale green leaves that intertwine with vibrant red berries. The text, shown in stylish gold letters, reads 'Wishing You Joy At The Holidays.' The back of the card features a red block pattern. Click on the image to learn more.
2018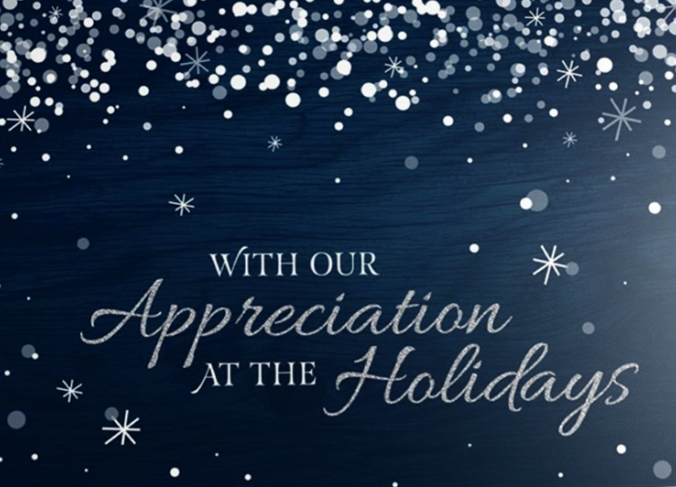 A snowstorm covers a midnight blue background, surrounding a message of 'With Our Appreciation at the Holidays' shown in elegant silver letters. The midnight blue background has a subtle wooden texture that covers both sides of the card, giving it a memorable and rustic winter feel.
2017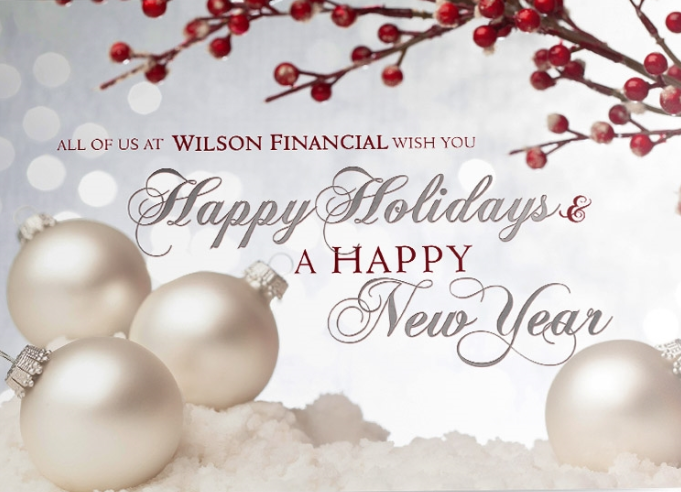 The words 'Happy Holidays & A Happy New Year' are written in stylish silver and red scripts against a soft silver background with white boheh lights and red berries. The text above the message is completely customizable; add anything you wish. The back of the card is colored in rosewood and the white interior offers the perfect place to add customizations.
2016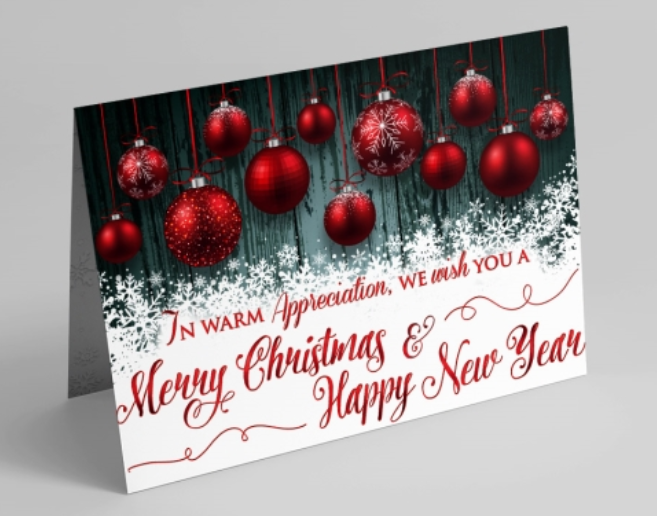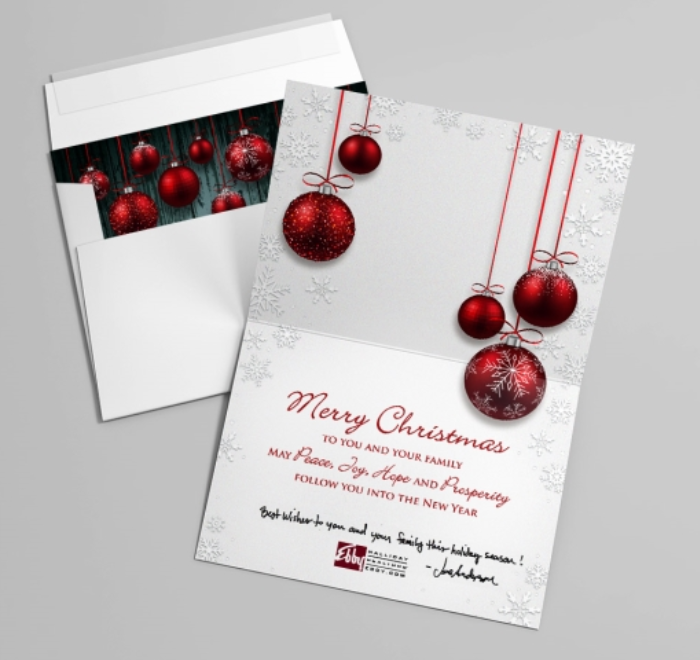 This card features gorgeous red ornaments with snowflake accents against a dark teal wood-grain background that rests above a pile of snowflakes. In the snowflakes, a message reads 'In Warm Appreciation, We Wish You A Merry Christmas & Happy New Year' in red letters. The inside of the card includes additional snowflakes and ornaments and the back is teal wood-grain.
2015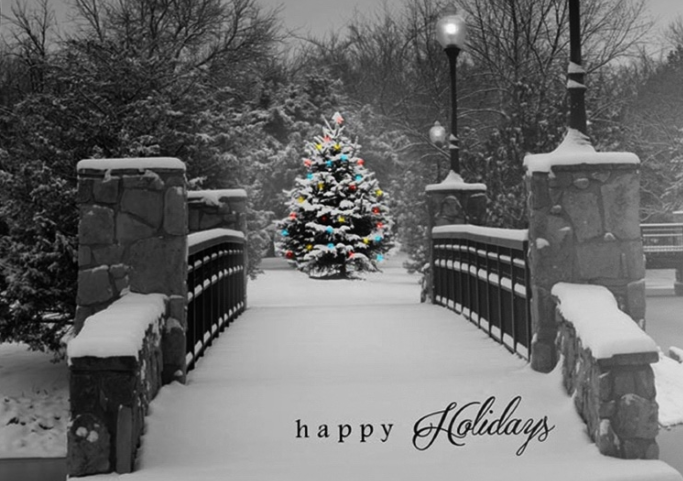 This dreamy holiday card features a black and white winter landscape on the front; the back is dark gray. Through the snowy park and across the bridge, a Christmas tree is shown illuminated with colorful Christmas lights, bringing life to the card. The message reads 'happy Holidays,' merging two unique fonts for one fashionable look.
2014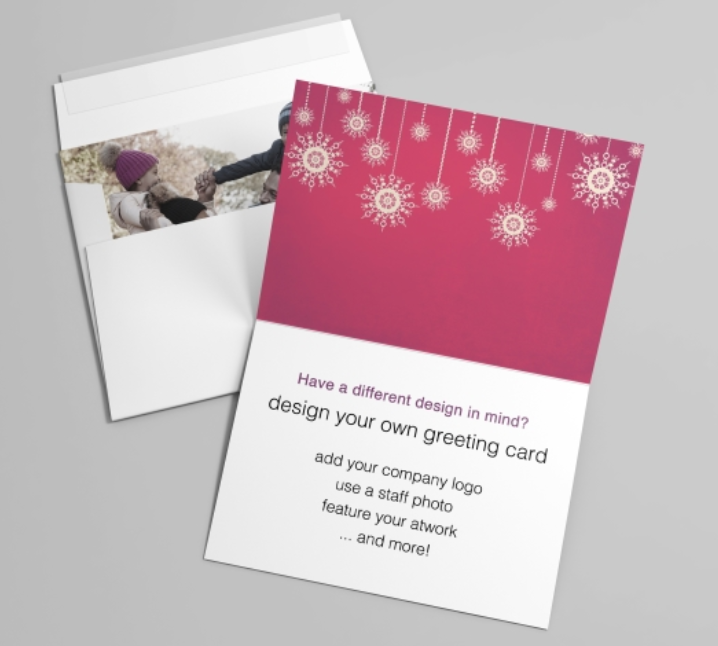 The card comes blank but offers endless possibilities for you to create your own holiday card, like the design shown above. Include your favorite pictures and make a holiday photo card; add graphics, a custom message, signatures, your logo, and more!.
2013
A chiaroscuro winter landscape is shown on the front of this peaceful holiday card, depicting a quiet trip through the snowy woods. The message reads 'Holiday Greetings' in red script,' adding the perfect touch of color to this landscape Christmas card.
2012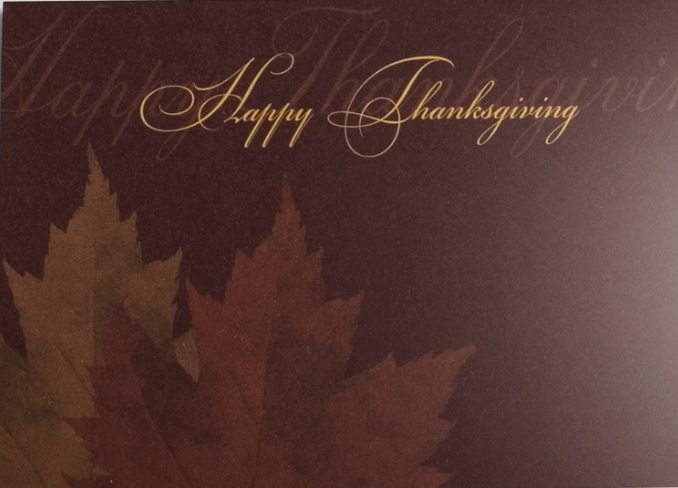 This greeting offers a classically stylish way to send Thanksgiving wishes. The duel leaf design in autumn colors against a brown-burgundy background combines with a simple message of 'Happy Thanksgiving' in a gold script for an elegant way to show customers, colleagues, family, and friends what you are most grateful for this year. The shadow of a Thanksgiving message is also shown behind the gold script to accentuate your love of the season and all its gifts.
2011
A vibrant, red paisley design fills the custom greeting card and combines with stunning tan accents that complement a message of 'Happy Holidays;' all presented on beautiful 100 lb. Recycled Brown Kraft paper.
2010
Express your appreciation this Thanksgiving and always with this thoughtful thank you card designed to look like it is printed on leather. In stylish, ecru-colored, scripted type the message reads 'A time to stop and give thanks.' Your custom imprinted verse and personalization makes this card one that is certain to be appreciated during the holiday season or any time of year.
2009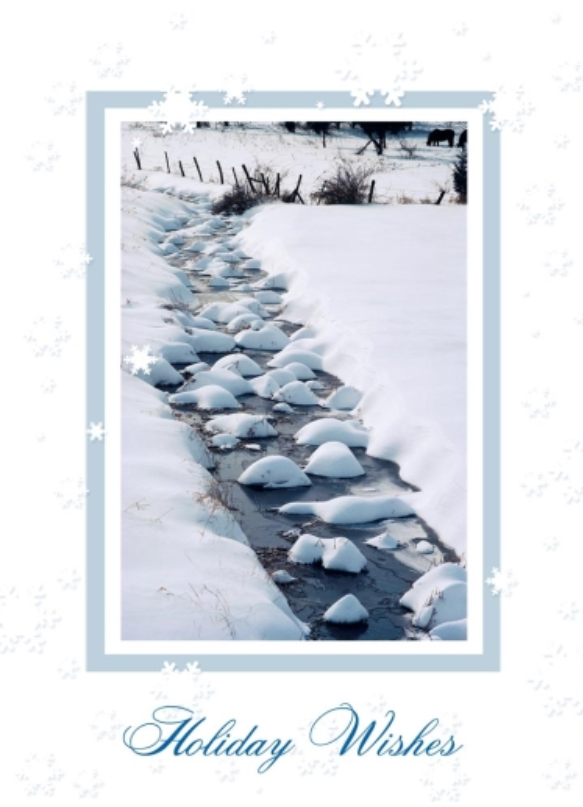 Framed by an icy blue border, this holiday greeting card features a photograph of a winter stream surrounded by snow. Light blue snowflakes fill the front of the holiday card template, dotting the stream and borders. 'Holiday Wishes' is shown in a matching blue script. This value card from CardsDirect is an instant classic, and has been for over ten years!
For more top-selling holiday cards, go to CardsDirect.com.