Are you someone who goes all out to celebrate a birthday? Balloons, streamers, appetizers, cake, gifts, activities – the whole nine yards. But you can't ever seem to remember the most important thing: the date. You realize, last minute of course, that it's your colleague's birthday and don't have enough time to grab a card before the celebrations begin.
It's hard to keep track of everyone's birthday, so when one rolls around, oftentimes you forget to pick up a card. With CardsDirect you can purchase custom corporate birthday greeting cards in bulk and keep them in your desk drawer. This way, you will always have a card on deck for those birthdays that seem to sneak up on you.
Here's a step-by-step guide to customizing your cards:
Choose the design
Start by poking around the website and checking out the designs. Whether you want a card that is subtle, abstract or tasteful, or something that screams "Happy birthday," we've got you covered. You can even order a free sample to check it out before you make your final purchase.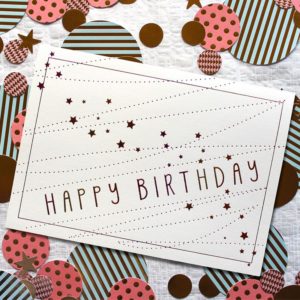 Consider the quantity
Bulk options come in a wide range of sets – anywhere from 10 to 2,000 cards! Price varies depending on how many cards you order.
You can also order a larger quantity and reach out to your frequent customers by wishing them a happy birthday every year. This is a great way for your business to be remembered in a positive light, boost customer appreciation and continue to keep the company's name out there. This may even increase your sales, as consumers value personalization and are willing to pay more for a better customer experience. Throw a discount coupon in there as well for an extra birthday treat!
Select the size and format
There are three different sizes you can choose from: standard folded, junior folded and signature folded. If your design is simple, go for a smaller card. For more intricate designs, we recommend choosing a large size so the art on the card doesn't look too small or squished. A larger card will make the design stand out more and not look so busy.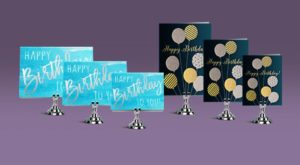 Pick your paper
Your card can be printed on a range of paper types, such as linen, felt, high-gloss, satin, matte and ice pearl metallic – all varying in price. If you choose a card with a more sophisticated design, go with an ice pearl metallic paper to get a chic look. For your standard birthday card with balloons or candles, a high-gloss finish will make those designs stand out more. A textured felt will help balloons pop out and come to life!
| | | |
| --- | --- | --- |
| | Textured linen | Textured Felt |
| | |
| --- | --- |
| Value satin | High gloss |
| | |
| --- | --- |
| Ice pearl metallic | Uncoated matte |
Match your envelope
Who knew there were so many types of envelopes to choose from? There's your standard heavy white vellum, white gold lined, white silver lined, brown Kraft recycled, white pearl and ice pearl metallic. Each envelope comes with the option of a peel-and-seal or traditional gummed closure. To keep it consistent, choose an envelope that fits with the theme and color scheme of your card.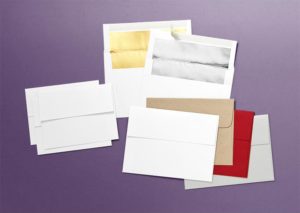 Now that you know all your options and how to complete the customization process, it's time to get started and make sure you're prepared for those birthdays. Happy designing!