The purpose of any business is to make the lives of its customers easier. And in the B2B world, an honorable and pleasant partnership is important to the continued success of all parties involved. In 2016, CardsDirect made a connection with the expert consulting firm of AlixPartners, a longstanding contender in their industry since 1981. Their hope was to feature a selection of affordable holiday cards, on our site, that they designed themselves. The cards were to be made available to whoever wanted to purchase them, specifically the employees of their worldwide company, with offices across the Americas, EMEA, and Asia.
AlixPartners provided the artwork, incorporating their new company branding and logo into a series of hip holiday designs that their employees could purchase in bulk and send to their clients, family members, and colleagues. The prerequisites for the products were as follows:
Affordable business holiday cards ($1-2 per card).
3-4 options that varied based on religious focus.
Simple designs with ample room for writing personal notes.
Consultants could upload their mailing address in advance to allow for pre-printed envelopes with delivery addresses.
Pre-printed return address could be included on all envelopes.
Cards could be ordered and delivered 1-2 weeks prior to Thanksgiving so that personal notes could be written inside the card.
Consultants could choose the card and quantity.
Consultants could include a custom message and signature.
Both the CardsDirect team and AlixPartners carefully corresponded until five designs were featured on cardsdirect.com.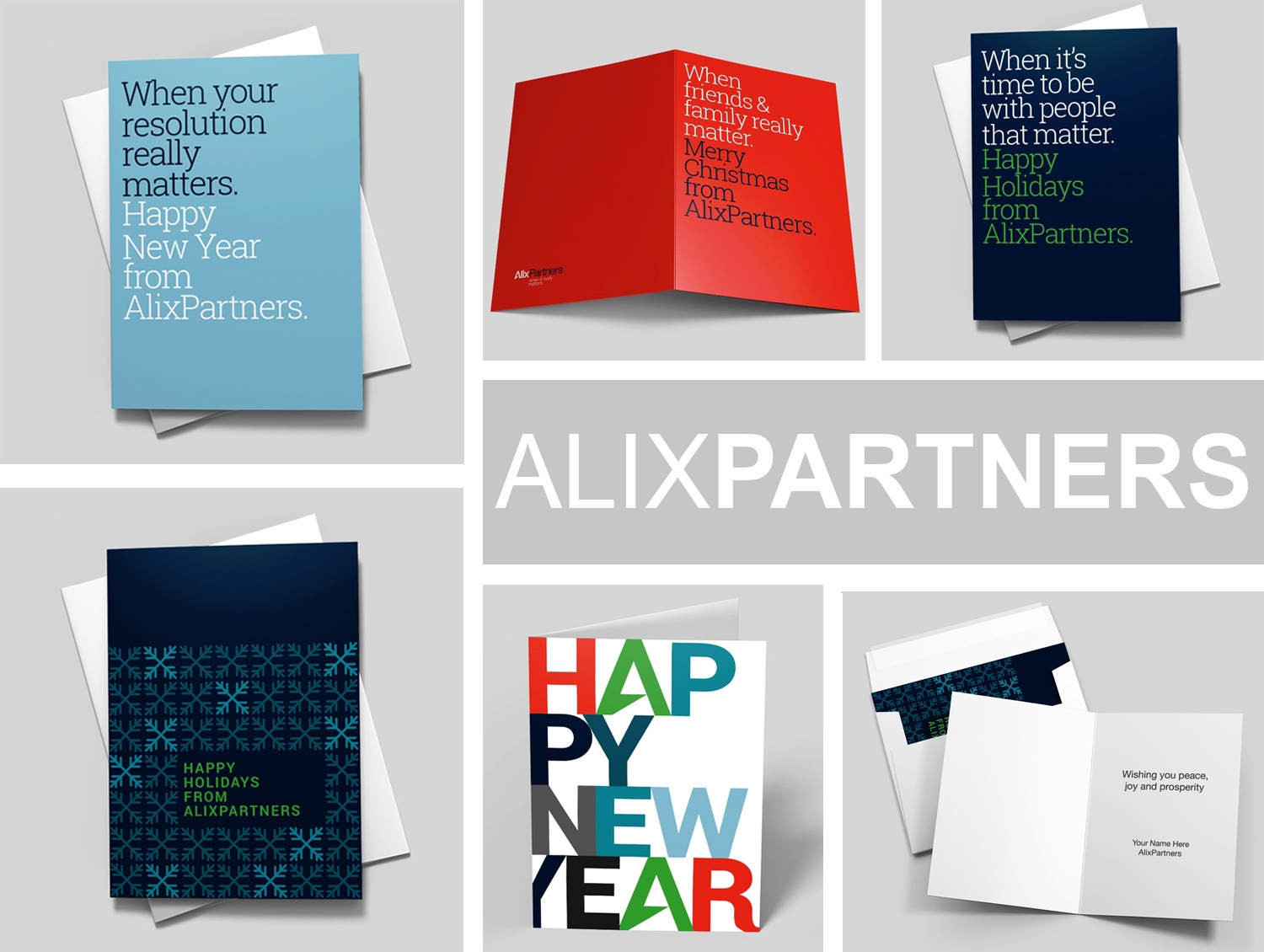 Their new, revamped, and cutting-edge branding was showcased and presented to all company employees through their stylish line of greeting cards and offered as a friendly marketing tool to send to clients. By the end of 2016, approximately 90 orders had been made, with purchases ranging from 20 cards to 1000 cards. Needless to say, the greeting cards turned heads, CardsDirect was thrilled to support the endeavors and rebranding of this impressive company, and AlixPartners couldn't have been more pleased with the outcome.
CardsDirect would like to offer this valuable service to you
In the future, CardsDirect would like to offer this remarkable service to any company looking to showcase their brand, market their value, and create a line of printed products that will stand out across their industry. Clients notice the additional effort of a company greeting card, especially one that is designed specifically for your brand. In addition to greeting cards, we also offer a wide range of other office products including personalized stationery, mailing labels, calendars, business cards, and more. Let cardsdirect.com act as your business's marketing hub, taking customer connections to the next level!