Even though we're living in a digitized world, where everything is at our fingertips and can be instantly accessed, there are still a few "vintage" elements that have outlived the digital age. Things like voicemails to let you hear the emotion in your caller's voice, handwritten cards or letters that arrive in the mail, and printed photos are just a few of these rare gems. These old-school ideas deliver something a text or email can't—a little humanity.
If you're running a business and trying to get your name or message out there, one of the easiest ways to do this is through direct mail (yes, snail mail). Not convinced? An International Communications Research survey found that 73% of consumers actually prefer mail to other advertising methods. Younger audiences couldn't agree more; 92% of young shoppers say they prefer direct mail for making purchasing decisions. It's also a fantastic and foolproof way to build brand loyalty and leave a lasting impression with your customers.
When preparing your first round of direct mail, consider these useful tricks to grab attention:
Some direct mail initiatives can be costly, with little return on investment. An often overlooked and affordable option is using greeting cards as a marketing tool, as shown below.
Choosing a colored envelope, instead of any shade of white, instantly increases by 20% the likelihood that your direct mail piece will be opened. People are naturally curious and want to explore that little something that looks different from the bunch.
Hand-addressed envelopes have a higher open rate than other direct mail.
The proof is in the numbers. A recent case study revealed how one of our customers achieved an incredible 578% return on investment (ROI) using greeting cards.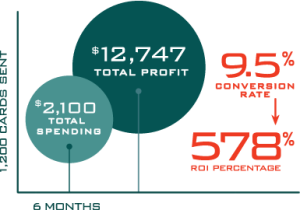 Need help getting started? Check out our assortment of greeting cards, personalized stationery and colored envelopes to gather some ideas and begin building your own branded mailer.