With all the talk about the upcoming presidential election and working in the greeting card industry, I wondered what Christmas cards the presidents have sent in years past.
The range has been from a simple presidential seal on a solid background to photo Christmas cards to commissioned fine art illustrations. It seems the First Lady drives most selections. Here are samplings:
In 1931 Hoover sent this signed photo greeting. Mrs. Hoover had an extensive collection of prints and chose her favorites. Here the President is pictured in the White House Rose Garden:
The official 1942 greeting from the Roosevelts was similar to their 1935 card. Sitting outside the Oval Office, this one-sided black and white card was simple and direct with a wish for a "happier" New Year.
Kennedy sent this simple card in 1961 featuring the Presidential Seal with a green border across the top. The sentiment inside read, "The President and Mrs. Kennedy Wish you a Blessed Christmas and a Happy New Year." Elegant and tasteful, Mr. Kennedy must have had a hand in this selection.
In 1970 the Nixon card was straightforward and elegant. The selection for 1971 featured a reproduction of an N.C. Wyeth painting of Washington inspecting the White House under construction.
Hillary Clinton certainly orchestrated the greeting sent in 1993. According to an article published in the Wall Street Journal on March 20, 2008, Mrs. Clinton first met with a staff of four to discuss the upcoming holiday card on May 13, 1993. The discussion lasted 50 minutes with a follow-up meeting on May 25 that lasted an hour. So, it appears you can never begin too soon when considering what card to send for the holidays!
Although the President wasn't in the meetings, he was in the photograph taken on November 11. Here is the 1993 Christmas card sent by the Clintons:
Last year President Bush and Laura Bush sent this illustrated greeting. The First Lady chose the illustrator and the painting is of a statue in the Jacqueline Kennedy Garden at the White House. The card was quite controversial, not for the image, but for the message included inside.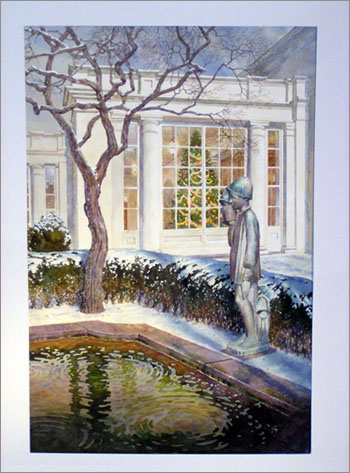 I wonder what this year's card will bring? Check back often as I promise to post it just as soon as an image is released!