Why mailing a sympathy card is best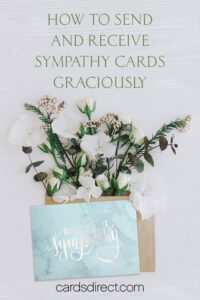 The purpose of a sympathy card is to let someone know they are in your thoughts. You are offering empathy and comfort by expressing your concerns for them during a difficult time. Often, a card can say what spoken words cannot.
A sympathy card should be sent as soon as possible. Mailing such a card is certainly appropriate and easier for both the sender and the receiver. At times a card can be hand delivered at a wake or viewing where a basket or table is provided. However, if such a setup is not available, you may end up carrying the card back home with you and mailing it anyway.
What's important to remember is that the family is grieving, and although your intention is to offer condolences, to drop by unexpectedly to hand-deliver a card might be overwhelming for the recipient. It would also be inappropriate to give someone a card and expect them to open and read it immediately.
A card received in the mail should be opened and read when the time is right. Your thoughtfulness will be appreciated, and your card kept as a reminder of your warmth and compassion. A short, heartfelt, hand-written message on a well-chosen sympathy card shows you care.
What to write in a sympathy card
The message you include in a sympathy card depends on the person you are sending it to. What is your relationship to the individual receiving the sympathy card? Are they a family member, friend, or coworker?
When writing any sympathy card, it is important to do it in the natural way that you interact with the recipient. More personal messages are meant for family, good friends, and longstanding relationships with colleagues.
More formal commentary may be best suited for an acquaintance or coworker, such as:
Sorry for your loss.
Please accept my sincerest condolences.
In your tough time, we are here for you.
Should you send a sympathy card to someone's office?
If you want to offer condolences to a business associate whom you strictly know through work, it is okay to send a card to their place of employment, because sympathy cards are always appreciated – no matter where you send them. However, if you feel comfortable doing it, it is typically recommended to send the card to their home.
If you are sending a sympathy card to their office, you'll need to know how to address it properly to ensure that it arrives at their desk. Address the card to your associate's name "care of" the business where he or she works. You'll want to keep the message of the card simple with only a line or two and your name – unless you know this person well and are aware of the circumstances surrounding the death in their family. Say something to the effect of "I am very sorry to hear of the loss of your friend/mother/father/etc." – followed by your signature. Sometimes a few kind words are all that is needed.
Here are some other suggestions:
You are in our thoughts and prayers.
I am greatly saddened to hear of [person's] passing.
I am very sad to hear of your loss.
[Person] will be dearly missed.
I wanted to send my deepest sympathy.
Writing more personal sympathy cards
For a more personal message about someone that you knew well, think of the things that you loved about the life of that person – the positive ways they impacted you and those around you.
Pick one or two of these to highlight in a couple of short sentences:
Their sense of humor.
Their smile.
Their calm and friendly demeanor.
Their helpful nature.
A fond memory that you shared.
Don't force your feelings, think of something that resonates with you, as it will likely resonate with the recipient too.
Sympathy cards to family
When writing a sympathy card to a family member whose loved one has passed, you probably shared many similar experiences together. Reminiscing about some of these experiences is good. Talk about the mutual love you had for that individual. Take part in the sadness that has come from their passing while being a pillar of strength. Be sure to let family members know that if there as anything you can do to help you're there. Be authentic. These are the messages that must come from the heart; there is no perfect advice other than to celebrate their life and mourn their death – express this through your actions, in the words you speak, and in the words you write in your sympathy card.
Sympathy cards for the loss of a pet
Sympathy cards can be written for deceased pets as well. While you may view this as over-the-top, try and remember that a pet becomes part of the family too (especially when they have been with their owner for several years) – they mean the world to them and their loss is met with equally powerful emotions.
Sending a sympathy card or a 'thinking of you' card is very appropriate for this situation. Don't say anything like 'You can get another pet,' because that is stating that their pet was unimportant and replaceable. Not everyone can bounce back so quickly. Something along the lines of 'I'm sorry for your loss, and I'll be there for you' is all that is needed. As always, with sympathy cards, it is important to offer support, not advice.
'Thinking of you' cards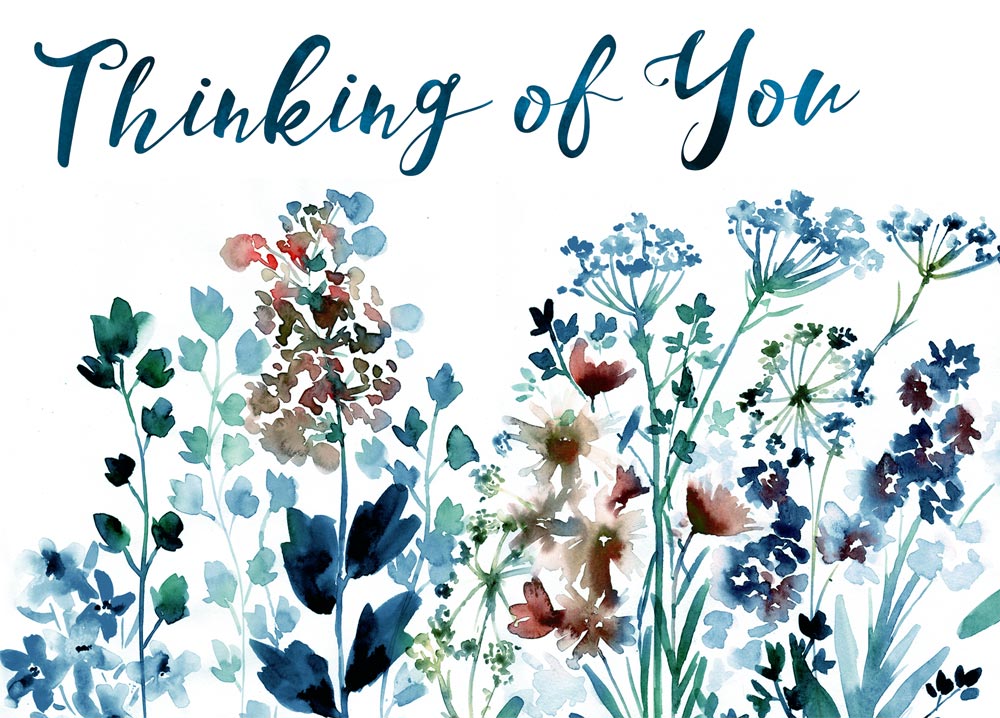 For temporary illnesses and injuries, there's the ubiquitous 'get well' card. For deaths in the family, there's the sympathy card. For all the other profound moments of melancholy, there's the 'thinking of you' card. It's a good option for any situation where you simply don't know what to say … serious or terminal illnesses, divorce, and other difficult situations.
Though sometimes, even the most well-meaning greeting cards really do fall short of the situation at hand. After sending a 'thinking of you' card, make an effort to do something nice for the recipient, even if it's just dropping by to take them out for coffee. In the 'thinking of you' card, say how sorry you are to hear the news, whatever the circumstances may be, mention that you are trying to arrange a visit or a time to talk. You might even want to enclose a picture of you and the recipient to remind them of happier times.
If it's a serious illness, be delicate in your words – be strong for that individual, and tell them they are strong too. Offer up your helping hand, and be standing by when they really need it.
If you are sending a 'thinking of you' card for a divorce, here are some things to remember:
Divorce is very tough time for people.
Couples often have a lot of mutual friends. One of the biggest issues for many newly divorced individuals is the fear of losing their friends to their ex-spouse. The stress alone can also cause a divide in friendships.
Sadly, some friends seem to react to divorce like a major illness, and they avoid their divorcing friends because they don't know what to say, or how to act gracefully in the situation.
While some friends may get a giggle out of a "congratulations" card after a divorce, if your friend is having a hard time, send a simple 'thinking of you' card instead of trying to be funny. Write a quick note inside, letting them know you're there if they need to clear their head…and then make good on it! Call a few days later (or stop by their house, if you're close), to see if they received the card. Ask if they want to go out for lunch or dinner sometime. Even if it's not a good time, or they are not feeling social, knowing that you're still there and still want to be friends will certainly boost their spirits.

Sending a 'thank you' card after receiving a sympathy card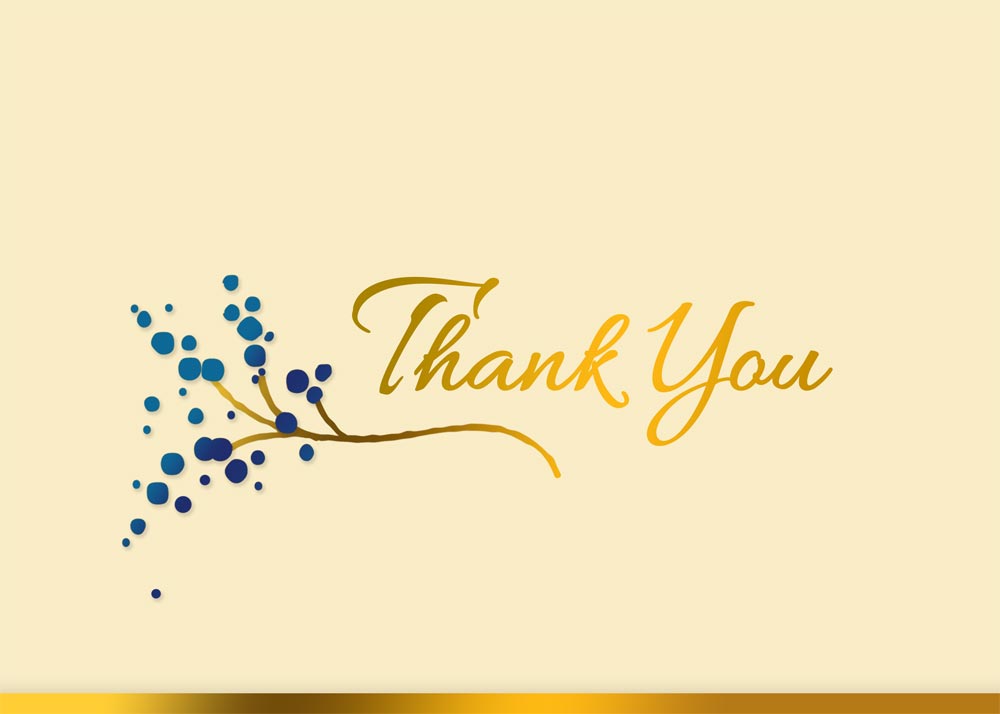 If you are on the receiving end of a sympathy card or 'thinking of you' card it is good to send a 'thank you' card to let your coworker, friend, or family member know you appreciated their kind words.
While you may have a lot of thank you cards to send out, it is usually proper to handwrite the addresses on the cards. Computer generated address labels look like a mass mailing, and not like the heartfelt correspondence you want to convey in a personal 'thank you' card.
Here are a few other things to remember:
Take your time: You don't have to send them out right away. You are dealing with a lot, and people will understand if they don't receive a 'thank you' card from you immediately. Do what you can handle, you can even send a few 'thank you' cards at a time until you finish.
You don't have to do it alone: Get your family to help with your 'thank you' cards. You can order take-out and make a day or night of it. Give everyone a stack of names to write addresses. Even the children can assist by putting stamps on the envelopes.
You don't have to write a book: A few heartfelt sentences on a 'thank you' card are much more meaningful than a dissertation. Leave the fluff out.
See it as part of the healing process: Getting the family together to write 'thank you' cards is a way to recall happy memories and to support each other as a family.