Dear Ms. Cards Etiquette,
Recently the grandparent of someone I am in a relationship with passed away. I am acquainted with the parents but have not had the opportunity to get to know them well. I have known the person I am in a relationship with for a long time and we have been seeing each other for most of that time. I would like to express my condolences but was not sure I should attend the service so I did not for concern it was a private family moment however in my heart I felt it might be the right thing.
It is just a week now and I have been trying to find the right words to express my sincerest wishes and thought of sending a token care package. Is this a sensitive thing to do or is it too late to do so?
Trying to find the right words…
First of all, you appear to be a sensitive person and your concerns are heartfelt. It is sometimes difficult to determine what is appropriate in times like these, especially when you did not personally know the deceased.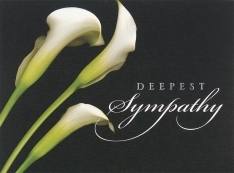 I'm certain your friend and his or her family will appreciate your concerns. It would be appropriate to send sympathy cards at times like these. Although it is best to act quickly, it is not too late to send a thoughtful card. You are expressing condolences to the family members who will appreciate your kind thoughts.
Add a short, simple note to your sympathy card such as "my thoughts are with you in your time of grief" or "deepest sympathies". Sign your name and add that you are a friend of (friend's name). Be sure and include your return address on the envelope. This kind gesture of support should be enough for the extended family but do continue to help your friend through the grieving process by being understanding and allowing them time to heal.