Welcome to The Makery…
Founded by Kyli Wolfson and her fiancé Dustin, The Makery provides healthy, organic, allergy-friendly, gluten and grain free alternatives to the world's most popular snack foods – more specifically gluten free baked goods. Their specialty? Cookies!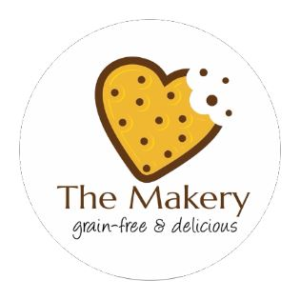 They cover everything; from classic favorites like dairy-free chocolate chip to a grain-free substitute for oatmeal raisin, seasonal gems like Paleo pumpkin cookies or gluten-free apple cider cookies, and knock-out flavors like their maple bacon and macadamia coconut chocolate chip.
The Makery also sells gluten-free, grain-free bagels, as well as homemade gluten free pizza crust. You can even purchase their famous cookie dough to whip up your own batch at home, which is made with fresh, all-natural ingredients and sweetened with honey from a local beekeeper.
The inspiration behind The Makery
The idea for The Makery was inspired by Kyli's love of old comfort foods, but the conundrum that came from her inability to digest gluten properly – a catch-22 that troubled Kyli most of her young life. Kyli has Celiac Disease, a genetic autoimmune disorder that leads to damage to the small intestine after ingesting gluten.
Turning a negative into a positive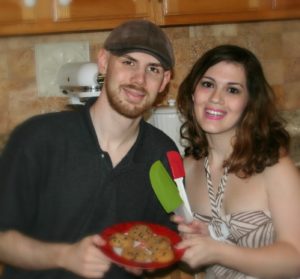 Kyli used Celiac Disease to her advantage, coming up with recipes that were nutritious, delicious, and catered to a very specific lifestyle. She and her fiancé have since created an impressive online gluten-free bakery, with highly unique products that are continuing to grow in popularity.
Personal marketing services for small businesses
As the owners of The Makery, Kyli and Dustin know the importance of effective small business marketing strategies for their gluten free bakery, and they are constantly trying to come up with new ways to reach their customers.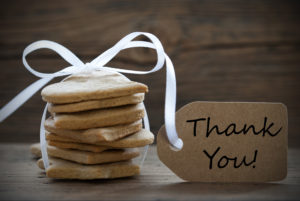 As an avid consumer of gluten-free products; customer well-being and personal attention are very important to Kyli – she and her fiancé make an appoint to address all their customers' needs individually, with custom orders and a personal 'thank you' card with each shipment.
Good things come in small packages
"Packaging is incredibly important to us," says Kyli. "We're in the food business, so we want our customers to open their boxes and be impressed by the presentation." Kyli and Dustin started using white bakery boxes with round labels and 'thank you' cards that they printed themselves. The cards came in sealed envelopes with decorative stickers, offering unrivaled personal detail and a g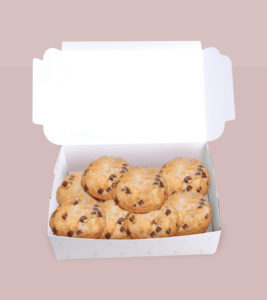 enuine cordiality worthy of outstanding customer reviews.
However, as the owner of a successful online gluten free bakery and not a printing company, Kyli says that her cards and labels "could certainly use improvement." She explains, "We are an upbeat, positive brand, and we want our printed products to reflect that."
Inspiring meaningful connections with CardsDirect

That is why Kyli and Dustin chose CardsDirect for their printed product needs. At CardsDirect, we are helping pave the way to a more successful entrepreneurial future for them with our top-rated 'thank you' cards, personalized labels, business cards, and other first-class printed products.
Inspiring meaningful connections is what CardsDirect does best, and we are more than excited to do it for Kyli and Dustin. Our hope is to take their gluten free bakery to the next level and create relationships that will last a lifetime with our excellent sales and marketing strategies. "We want printed products that we can be proud of," says Kyli, "and we look forward to using these products for years to come."