Bee's Ice Cream – making Wisconsin even more beautiful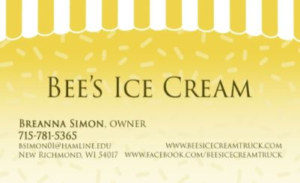 Welcome to New Richmond, Wisconsin, known to its residents as the City Beautiful. Just four short years ago, a 17-year-old girl named Breanna Simon redefined the meaning of this motto with her striking carnival-inspired desserts. Breanna Simon, the proud owner of Bee's Ice Cream, a traveling neighborhood ice cream truck catering service, offers an eclectic array of freshly made cotton candy, ground snow cones, and local ice cream favorites.
A personal ice cream truck catering service for all your events
Want to schedule your own personal ice cream truck for a birthday party, community gathering, or corporate event? Bee's Ice Cream truck catering will be there!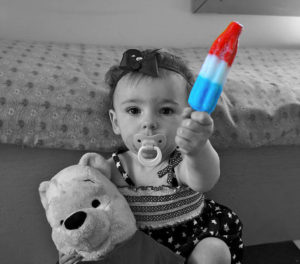 Looking for an assortment of super-sweet cotton candy flavors that will go perfectly with your wedding or graduation? Bee's Ice Cream truck catering can match the color scheme of your entire event!
A business that keeps on growing
What started out as a small part-time business to help pay for Breanna's college education, has now turned into a true success story for young entrepreneurs everywhere. Bee's Ice Cream has been featured in multiple news outlets including the Huffington Post and KARE 11 – a direct result of her hard work and dedication to a highly personal, competitive, and hands-on industry.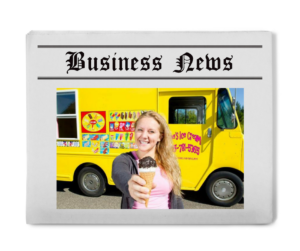 While many culinary creatives struggle to gain exposure, Breanna has already made her mark. What Breanna has built, since the very beginning in 2012, after purchasing and refashioning an old FedEx delivery truck, will continue to flourish if she remains top-of-mind with her customers. The right small business marketing strategies will assure Breanna a highly lucrative enterprise that expresses her individuality in this niche market.
A strong personal brand
"We currently do very little marketing," expressed Breanna. While word-of-mouth is a powerful form of press and social media marketing is still highly popular among millennials, there are other basic marketing principles that every small business must adhere to, and creating a strong personal brand is at the top of this list.
This is greatly achieved through printed products like business cards and other tangible marketing materials such as labels, brochures, and personalized stationery with your contact information and company logo. Equal on this list is the use of personalized 'thank you', birthday, and seasonal greeting cards in order to maintain close and ongoing customer relationships while establishing brand-new connections.
CardsDirect has spectacular products for spectacular product marketing
Breanna made business cards her first priority and took up the expert services of CardsDirect. It was our job to provide Bee's Ice Cream truck catering service with a spectacular product for spectacular product marketing – creating a recipe for success.
Breanna had already designed a website, a Facebook page, and even some fun-loving t-shirts to accentuate her brand – she had worked to develop special relationships with many of her customers – but it was time to take Bee's Ice Cream truck catering service to the next level.
A product you can believe in

What separates a highly successful business from one of moderate stature is ultimately their customers. Customers must believe in the product, they must believe in who is creating it, and they must believe that they will always be the most important person on that company's mind – if they believe in these three things, the sky is the limit.
With CardsDirect, Breanna will be establishing the type of rapport that she truly wants with her customers, and continually bringing in exceedingly happy clients. CardsDirect is thrilled at the opportunity to take Bee's Ice Cream truck catering service to new heights, with a fresh line of products designed just for her. We can't wait to see what the future will bring!