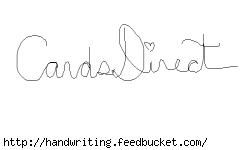 Your style of handwriting can say much about you as a person.  Are you organized, rushed, a leader or dishonest?  Your handwriting can reveal your personality as well as your darkest secrets!
Graphologists consider many factors in determining handwriting traits.  Is the writing orderly or disorderly, crowded or dispersed on the page?  Do you dot your "i's" with hearts or use large sweeping tails on the ends of words?  Do you use all the space allowed or write in itty bitty letters?
Does your signature slant to the left or the right?  Do you sign in cursive or print, or a combination of both? 
Marc Seifer has written "The Definitive book of Handwriting Analysis" with in-depth information on the subject.  Graphology is the study of handwriting and handwriting analysis is a tool used by law enforcement as well as an assessment tool useful in business.  Handwriting can reveal personality and behavioral traits which makes it useful for recruitment screening, team-building, career planning and counseling.
For example, handwriting that is generally upright indicates independence while a left slant shows reserve.  Wide spacing between words suggests a need for breathing space while words placed closely together may indicate a wish to be close to others. 
Want to see how your signature measures up?  Take this Handwriting Personality Quiz.  Just sign your name in the box provided, answer 5 short questions and see what your signature says about you!