Now is a great time to go ahead and order your holiday cards! Beat the rush by ordering early so you can get them all signed, addressed, and ready to mail before the holiday shopping, cooking and decorating madness begins. And to make them extra special, stick a 1st Class US Postage Stamp on them that will complement the card design itself and entice the recipient to look inside that special envelope.
Here are the holiday stamps available for the 2011 holiday season. No licking necessary anymore, the designs are chosen especially to fill the bill on religious Christmas cards to contemporary Holiday cards, Hanukkah Cards and Kwanzaa cards too. It currently costs $.44 to mail a card but the price will increase to $.45 in January. You'll be money ahead though as these are all Forever Stamps so you can use them… forever, thus avoiding price increases.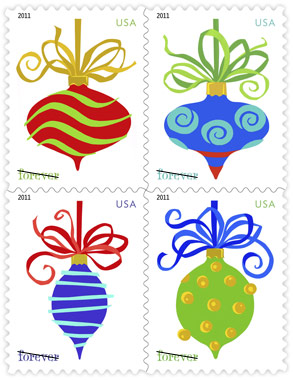 Perfect for anyone on your holiday card list, each of these colorful stamps features a colorful ornament in bold colors and designs topped with fanciful bows. The illustrator, Linda Fountain, from Hilton Head Island, SC, sketched the images based on styles from the 1950s, then used cut paper to complete the designs. Fun and festive, these Holiday Baubles add a touch of excitement to any holiday card envelope.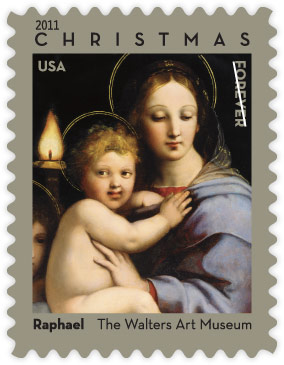 Religious Christmas Cards celebrate the reason for the season and this illustration of the Virgin Mary and Baby Jesus was painted in oil by the Italian master, Raphael in or around 1513. Entitled "Madonna of the Candelabra", the painting is now in the collection of the Walters Art Museum in Baltimore, Maryland. The image on the stamp is just a portion of a larger painting.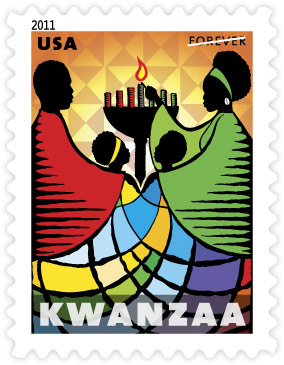 The bold colors of this Kwanzaa stamp clearly show the celebration that takes place over seven days beginning on December 26 each year. The first Kwanzaa commemorative stamp was issued in 1997 with new designs issued in 2004 and 2009, making this the fourth stamp in this series. The design by Daniel Minter was first carved into a linoleum block, then scanned into a computer and colorized. The stamp celebrates family and the colors of Kwanzaa.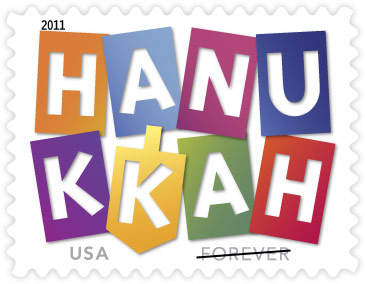 The Jewish Festival of Lights is commemorated with this Hanukkah stamp for 2011. The fourth stamp in the series, this one was created by Suzanne Kleinwaks of Falls Church, Virginia. The bold and colorful shapes symbolize the eight days and nights of the Hanukkah celebration with one designed to look like a spinning dreidel, a familiar toy children traditionally play with during the holidays.
Sticking a real postage stamp on holiday cards is much more personal than running them through a postage meter. And wouldn't you agree that you tend to open mail with stamps on them first when sifting through everything that appears in your mailbox?