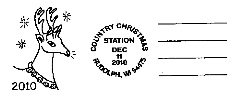 For a bit of fun, consider sending your Holiday Cards from a Post Office with a Christmas related name and postmark! A fun holiday postmark is sure to surprise those on your holiday card list as they look to see where their card is from.
Just pick a post office from the authorized list shown below. Stamp and address your cards then package them all up and send them to:
Christmas Re-mailing
Postmaster
City, State, Zip (choose from one listed below)
Your cards will be individually postmarked and mailed from there. Although there is no charge for this service, it is best to mail them by December 10 to allow enough time for the postmarking, re-mailing and delivery.
Angels Camp CA 95222
Bethlehem KY 21609
Bethlehem NH 03574
Bethlehem PA 18016
Chestnut IL 62518
Evergreen Co 80439
Evergreen LA 71333
Frost MN 56033
Garland PA 16416
Garland TX 75040
Holly MI 48442
Hope KS 67451
Hope MI 48628
Hope MN 56046
Hope NM 88250
Hope ND 58046
Joseph OR 97846
Joy IL 61260
Nazareth KY 40048
Nazareth MI 49074
Nazareth PA 18064
Noel MO 64854
Patridge KY 40862
Rudolph OH 43462
Rudolph WI 54475
Saint Joseph IL 61873
Saint Joseph MI 49085
Saint Joseph MN 56374
Saint Mary's PA 15857
Saint Mary's WV 26170
Santa ID 83866
Snowflake AZ 85937
Spruce MI 48762
Star NC 27356
Wouldn't it be fun to get Holiday Cards from Santa, Photo Cards from Rudolph or Christmas Cards from Bethlehem?