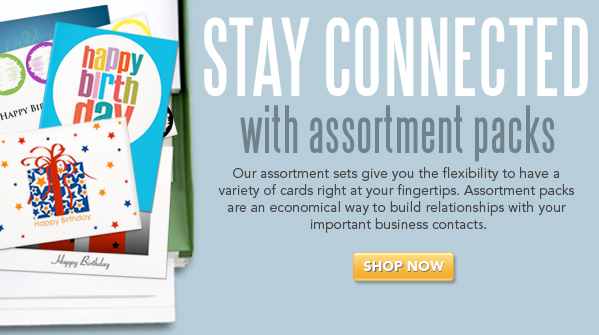 Although we continue to advise corporations to have their logos printed inside their custom greeting cards, we also recommend they be prepared for any situation. Assortment packs of cards can be kept on hand at your office to use for a variety of circumstances. There are many instances where having an assortment pack would be beneficial to your business:

• Birthday Card Variety– If you're sending a batch of birthday cards to customers who work at the same office, you may consider using a birthday assortment pack that offers different card designs. The recipients will feel special when they receive an individual design chosen specifically for them.
• Unexpected Events– You may not want to purchase sympathy cards on a regular basis, but it is good to have a few on hand to pull from when you need one most. Cards can be comforting to colleagues, customers, and employees when they are faced with a challenge.
• Rapid Response Time– Do you travel for work to meet with clients? Keep an assortment pack with you on your trips so you can get cards in the mail before you even leave your hotel. Whether it's a congratulations card for a new accomplishment or a thank you card for making time for a meeting, quick card turnaround indicates you are a hardworking and thoughtful colleague.
• In a Bind– Even when you have the best intentions to stay on top of your greeting card regimen, forgetting a birthday or anniversary happens to the best of us. Keep an assortment pack in your mail room so you can grab a last minute birthday card to give to a client or an anniversary card to slip on a longtime employee's desk. No one will be the wiser!
• Tight Budget– You may want to keep a variety of high quality greeting cards on hand, but have little room in your budget. Assortment packs save you money, but still give your company a positive and professional reputation.

Whether you buy assortment packs for internal use around the office or send a variety of notes out to clients, having a stash of cards is a wise business decision.