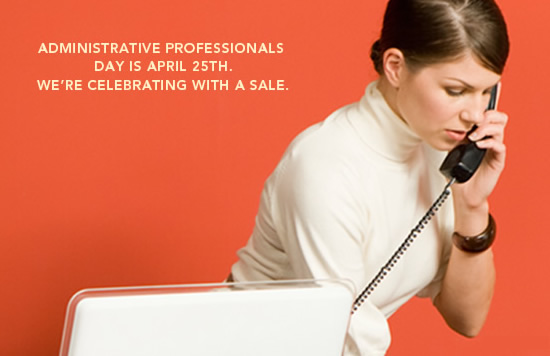 April 22 – 28, 2012 marks the 60th anniversary of Administrative Professionals Week. This week is one of the largest workplace observances, honoring the support staff of offices around the world. While the official date for Administrative Professionals Day this year is April 25, 2012, some offices use the entire week to recognize and learn from their administrative teams.
History
Administrative Professionals Week was formerly called Professionals Secretaries Week up until the year 2000. The name change was done in order to keep up to date with changes in job titles and the growing responsibilities of the administrative staff. The week was put into place to bring recognition to the position as well as attract new people into the secretarial field.
How to Celebrate
Our tips for celebrating Administrative Professionals Week include:
• Recognize your administrative staff with a special event like a catered lunch or cake and punch. Make it a social event with your admins as the guests of honor.
• Give a small gift to show appreciation for hard work. We recommend personalized note cards because they are both thoughtful and useful.
• Encourage the entire company to send thank you notes to the administrative assistant that helps them on a daily basis. Make sure the admin is not copied in on the email!
• Assist in paying for the administrative professional to join a professional organization like the International Association of Administrative Professionals.
We're looking forward to a great Administrative Professionals Week 2012! Please share how your office is participating by leaving a comment on our Facebook page.